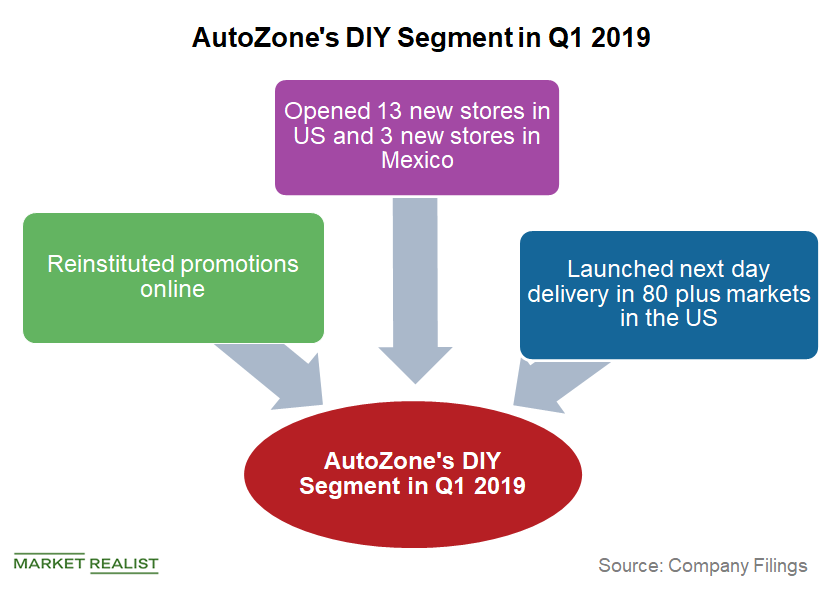 Did AutoZone Resume Its Promotional Strategy in Q1 2019?
AutoZone's business segments
AutoZone's (AZO) performance is mainly divided into two business segments: DIY (do it yourself), or Retail, and DIFM (do it for me), or Commercial. The DIY segment targets retail customers and yields higher margins than DIFM.
For AutoZone, DIY is a major business segment, and it's focused on the sale of auto parts to customers without the provision of a mechanic's assistance to fit or change those parts.
Article continues below advertisement
Article continues below advertisement
New store openings
During the first quarter, AZO opened 13 new stores in the United States and relocated one store, increasing its store count to 5,631 in its home market as of the end of the period. The company also opened three new retail stores in Mexico last quarter, taking its store count there to 567 while its store count in Brazil remained unchanged at 20.
Based on its number of stores in the United States, AutoZone is the largest auto parts retailer in the country, ahead of O'Reilly Automotive (ORLY) and Advance Auto Parts (AAP). AZO's key focus on expanding its international market presence also gives it an edge over AAP and ORLY. Among automakers (FXD), General Motors (GM) is the largest US automaker followed by Ford Motor Company (F).
The DIY segment
In the second half of fiscal 2018, AutoZone's management made the decision to discontinue aggressive promotional discounts for its ship-to-home sales. The move was made to standardize the pricing of its products online and in stores, and AZO called it an omnichannel experience.
On AZO's fiscal 2019 first-quarter earnings call, CEO Bill Rhodes told investors, "At the end of fiscal 2018, we reinstituted promotions online as we have removed them at the start of calendar 2018." He noted that the company had launched "next day delivery in 80 plus markets across the country" in the quarter.
Next, we'll take a look at AutoZone's commercial business performance in the first quarter of fiscal 2019.