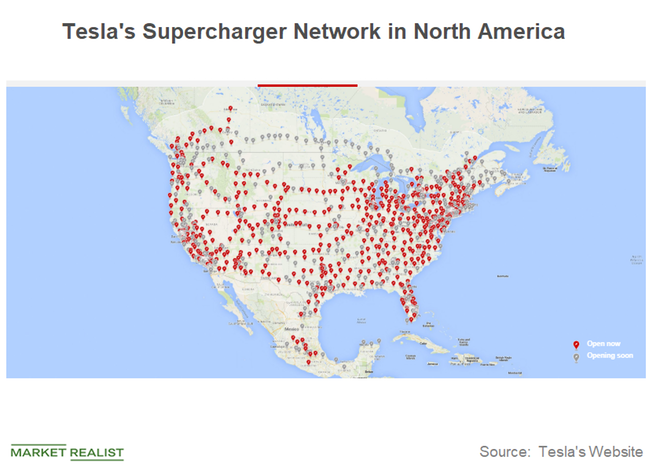 How NIO's Battery Swap Option Compares to Tesla's Superchargers
NIO's 3Q updates
NIO vehicle buyers have several options to charge their electric vehicles (or EVs) including Power Swap, Power Mobile, Power Home, and using China's nationwide EV charging network. Among these, one of the much talked about options is the Power Swap option, which allows NIO car owners to swap their car battery at its battery swapping stations. The Power Swap service was initially expected to be a better option for EV owners, as the car battery can be swapped within a few minutes, while charging the battery at a station might take much longer.
Article continues below advertisement
Is NIO's Power Swap option failing?
NIO provides a battery swapping facility at 30 swap stations across 16 cities in China. During its third-quarter earnings conference call, NIO's CFO, Louis Hsieh, noted that only roughly around 6% of NIO car buyers are estimated to have chosen the battery swap option. Hsieh also added, "We are pleasantly surprised that over 70% of the people are installing home chargers."
During the call, NIO's founder, chair, and CEO, William Li, also mentioned, "average income and the status of the home charging facilities is much better than we expected." Li also pointed out, "In the urban area, we do not need to deploy a lot of power swap stations, but we would like to deploy more power swap stations in the highways."
NIO's Power Swap versus Tesla Superchargers
On the other hand, Tesla (TSLA) Superchargers, located on well-traveled routes around the world, allow car owners to rapidly charge their EVs. At the end of the third quarter, Tesla had a global network of about 1,352 Supercharger stations, more than 11,000 Supercharging connectors, and more than 20,000 Destination Charging connectors.
While battery swapping is much quicker as compared to the traditional way of charging the battery, it is not gaining popularity in urban areas in China. Thus, NIO's battery swap option seems to be failing as compared to Tesla's rapidly growing Supercharger and Destination Charging network at the moment.
In April 2018, General Motors (GM) and EVgo, which offers EV-charging stations, teamed up to build a fast-charging network in the US for GM's car-sharing service, Maven. Automakers (XLY) Ford (F), Volkswagen (VLKAY), and Daimler (DDAIF) partnered to build an EV-charging network in Europe. These automakers joined other auto companies to form a joint venture called IONITY.