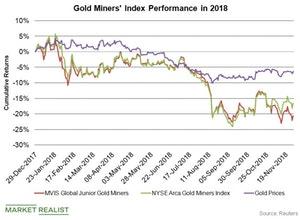 How Gold Stocks Have Performed This Year
By VanEck

Oct. 8 2020, Updated 1:32 p.m. ET
VanEck
MORRIS: That's interesting. Well, now let's move on to the companies. I've heard you say a number of times that you think the industry is in great shape, they've contained their cost. The companies are in great shape. Can you tell us a little bit more about your view of the companies' position right now financially?
FOSTER: They're in great shape. A lot of companies took on way too much debt in the good years when the gold price was rising. They paid for it in the down years, but they've managed to get cost down, generate cashflow, sell assets, and pay down their debt. So, their balance sheets are in good shape now. Financially, they're strong. Operationally, they're strong as well. Again, like I said, they've got their cost down. They've found much better financial discipline to where they're building projects with good double-digit rates of return. So, generating returns for shareholders that we haven't seen in some time in this industry. So,  fundamentally, yes.
MORRIS: That's great. So, it seems to me that you would make the argument, and I know we as a firm make the argument that, at this point, if you're going to have gold exposure, it would make more sense to actually own the companies than the commodity.
Article continues below advertisement
FOSTER: Yes. And the other key factor here is that valuations are very low. So, the industry is healthy. In addition, valuations are at historic lows right now. So, these stocks are cheap. So if we do get some gold breaks out of this trend it has been in for so long, I think these stocks can show some very good performance.
Market Realist
How have gold stocks performed this year?
Gold and gold miners didn't start off the year on a good note. Expectations were that with the rising global uncertainties like trade war tensions and emerging market downturn, gold prices and gold stocks could recover. However, that was not quite the case. The SPDR Gold Shares ETF (GLD), which tracks physical gold prices, has declined 7.0%, losing its safe-haven status this year.
Gold mining companies' stocks have also declined on the back of lower earnings and weaker outlooks. Year-to-date, all major gold miners have suffered a hard fall. As of November 27, Barrick Gold (ABX), Goldcorp (GG), Newmont Mining (NEM), and Kinross Gold have declined ~12%, ~27%, ~27%, and 40%, respectively.
Gold miner indexes like the NYSE Arca Gold Miners Index and the MVIS Global Junior Gold Miners Index track the performance of gold mining stocks. The NYSE Arca Gold Miners Index tracks highly capitalized gold mining companies, whereas the MVIS Global Junior Gold Miners Index focuses on the most liquid junior companies in the industry. The NYSE Arca Gold Miners Index has declined ~19.0%, and the MVIS Global Junior Gold Miners Index has fallen 6.05% YTD. Meanwhile, the top gold miner ETF, the VanEck Vectors Gold Miners ETF (GDX), is also down 19.0%, while the VanEck Vectors Junior Gold Miners ETF (GDXJ) is down 22.4% YTD.
Even though gold mining companies failed to impress this year, having exposure to gold through gold stocks can be a safer option during market distress. Rising inflation in the US could weigh on the stock market, thus making gold attractive.