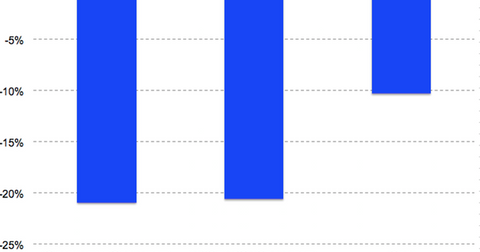 Why Gold Stocks Have Fallen More than Gold this Year
By VanEck

Updated
Article continues below advertisement
Gold Stocks Decline While Sentiment and Changing Mandate Add Pressure
The gold price weakness caused gold stocks to fall in August as the NYSE Arca Gold Miners Index (GDMNTR)2 and the MVIS Global Junior Gold Miners Index (MVGDXJTR)3 both declined 12.5%. The underperformance was reminiscent of February when GDMNTR lagged gold by 8%. By July, the miners had clawed back the performance they had lost in February. While we know of no fundamental company news that explains the weakness of gold stocks, we do know of potential selling pressure that could account for it.
Market Realist
Gold (OUNZ) prices have declined over 10% this year. However, gold stocks have gotten a bigger knock this year. The NYSE Arca Gold Miners Index (GDX) has declined 20.6% year-to-date YTD while the MVIS Global Junior Gold Miners Index (GDXJ) has slumped 21.0%.
Goldcorp (GG) is one of the biggest stocks in the sector with the smallest negative returns this year. As of September 28, it has declined 19.4%, compared to Barrick Gold's (ABX) return of -23.0%.
Kinross Gold (KGC) has plummeted -36,9%, and Newmont Mining (NEM) has declined 18.9%.
Other than lower gold prices, some company-specific factors have also led to the decline in gold miner's stocks. Barrick Gold's stock has been affected by some problems at its mines. KGC and Eldorado Gold (EGO) have been struggling as a result of mining code changes and government interferences. New Gold (NGD), meanwhile, has faced mechanical and operational issues at its biggest mine.