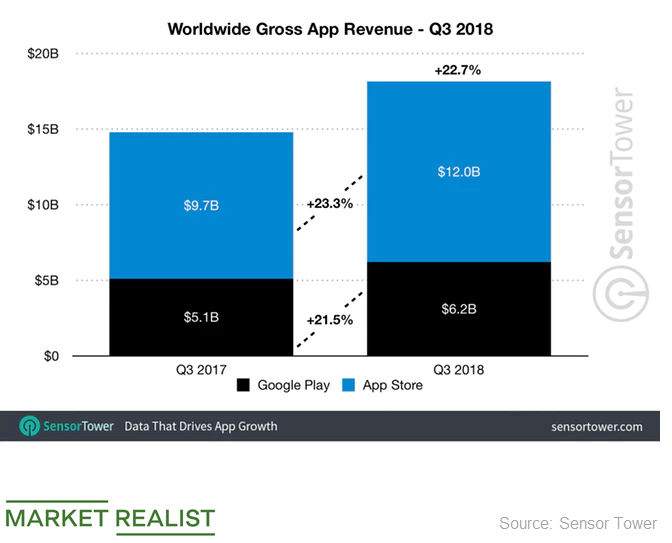 What Will Drive Services Revenue for Apple?
Gaming is a key driver
Apple's (AAPL) Services segment is an important revenue driver for the company. Emerging markets (EEM) such as China (FXI) and international markets such as Japan (EWJ) have contributed significantly to Apple's Services segment in terms of revenue growth over the years.
The growth in the global mobile gaming industry is a key driver of App Store sales. Mobile games account for 71% of total App Store revenue and 50% of revenue growth.
Apple's other verticals under the Services segment, such as Apple Pay and Apple Music, have gained significant traction over the last two years.
Article continues below advertisement
Article continues below advertisement
Search ad business will grow quickly
According to Bernstein analyst Toni Sacconaghi, Apple's search ad business is expected to rake in $500 million in sales in fiscal 2018. This figure could rise 4x to reach $2 billion by the end of 2020.
Sacconaghi expects this figure to be a conservative estimate. He stated, "Should the goals be reached, Search Ads alone will generate as much revenue as Apple Music did in fiscal year 2017, but given that it has to pay almost nothing for acquisition costs, the margins are dramatically higher."
Search ads appear at the top of the App Store page and are used by app developers to attract potential users.