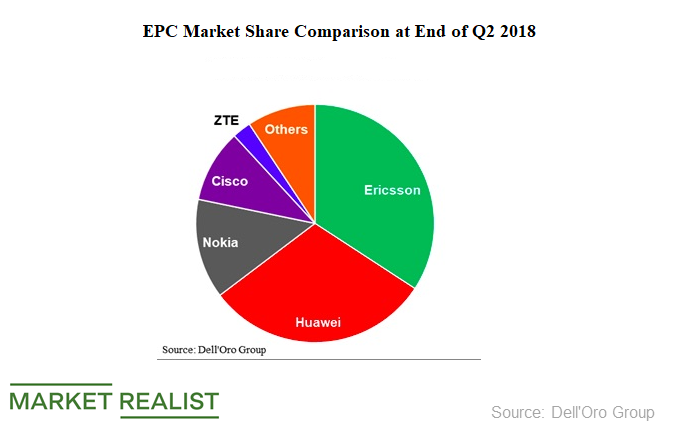 Ericsson and Huawei Still Lead Evolved Packet Core Market
Ericsson leads in EPC market
According to research firm Dell'Oro Group, Ericsson (ERIC) is the leader in the global evolved packet core (or EPC) market. Its research report states that Ericsson's share in EPC is higher than China's (FXI) Huawei. The global EPC market revenue was estimated to rise 4% sequentially in the second quarter of 2018.
Dell'Oro's senior analyst David Bolan said that while Ericsson and Huawei have a combined EPC share of ~60%, Ericsson outpaced Huawei at the end of the second quarter.
Article continues below advertisement
What has driven EPC growth?
Growth of the telecommunications markets in Asia Pacific, Europe, the Middle East, and Africa has driven revenue for Ericsson and its peers. Emerging markets (EEM) such as India (INDA) are adding LTE (Long-Term Evolution) subscribers at a fast pace.
Reliance Jio, one of India's top telecommunications companies, has given a target of 400 million subscribers by the end of 2018. According to the Dell'Oro report, "Reliance Jio is using Samsung's LTE EPC and RAN for its network and is building a network that is bigger in scale than AT&T and Verizon's networks combined."
EPC growth was also driven by the North American markets. Service providers are ramping up 5G (fifth-generation) launches, and the technology is expected to be deployed by the end of this year. That has resulted in several service providers upgrading their EPCs.