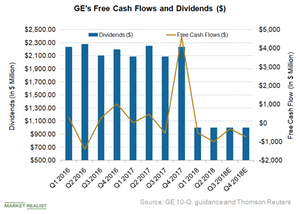 Will General Electric Achieve Free Cash Flow Target in 2018?
By Samuel Prince

Sep. 11 2018, Published 3:27 p.m. ET
GE's cash position
In the first half of 2018, General Electric (GE) paid $2.1 billion cash in the form of quarterly cash dividends. The company used $1.4 billion of adjusted industrial free cash flow during the same period. GE had cash in hand of $8.9 billion excluding Baker Hughes (BHGE) at the end of the second quarter. Cash of $8.9 billion was down $2.9 billion compared with $11.8 billion at the end of 2017.
Article continues below advertisement
GE's free cash flow
In the first quarter, General Electric seemed confident about achieving the industrial free cash flow target of $6.0 billion to $7.0 billion in 2018. However, the company's rhetoric changed on the free cash flow target. On the second quarter earnings call, the Boston-headquartered industrial giant announced it would cut its free cash flow guidance to $6.0 billion.
Moody's senior credit officer, Rene Lipsch, said, "GE's revised free cash flow guidance of about $6 billion is broadly in line with our expectation for 2018, but underlines that GE is only at the outset of a multi-year effort to improve its fundamental financial performance. The company has made considerable progress in executing its strategic plan and reducing structural costs, but continuing weakness in the Power segment in particular causes uncertainty in achieving the revised guidance."
Factors affecting GE's free cash flow
General Electric has heavy pension liabilities of ~$29.0 billion in the form of underfunded pension plans. In the recent past, the company raised a $6.0 billion debt in connection with its future pension contribution. The company's total long-term debt was ~$115.4 billion at the end of the second quarter. Amid the weakness in GE's power business, the interest on the debt is a huge financial burden for the company.
Article continues below advertisement
Analysts polled by Thomson Reuters now expect GE to generate free cash flow of $2.6 billion in 2018. They anticipate operating cash flow of ~$7.0 billion and capital expenditure of $4.4 billion in this year. GE's capital expenditure was in the $7.0 billion to $7.3 billion range from 2015 to 2017. The lower 2018 capital expenditure budget is positive for this year's free cash flow amount.
A look at IYJ
General Electric makes up 3.07% of the iShares U.S. Industrials ETF (IYJ). Other big industrial companies in IYJ's portfolio include Boeing (BA) with a weight of 5.32%, 3M Company (MMM) with a weight of 3.6%, and Honeywell International (HON) with a weight of 3.43%.
In the next section, we'll compare GE's forward dividend yield with its peers.