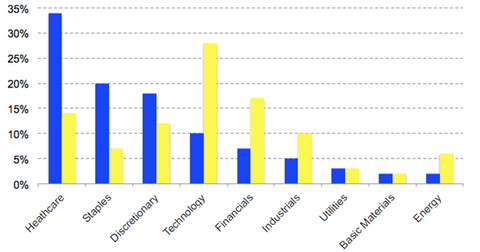 US Moat Index Outperforms S&P 500 despite IT Underweight
By VanEck

Updated
VanEck
U.S. Domestic Moats: Impressive Despite IT Underweight
The U.S. Moat Index posted strong performance again in July, and by the end of the month, its year-to-date results overtook the S&P 500 Index despite being underweight to the information technology sector. The U.S. Moat Index has been overweight healthcare companies for some time now as a result of the valuation dynamics in the sector. That positioning paid off in July with the top five performing constituents all coming from the sector.
All nine represented GICS sectors contributed strongly to U.S. Moat Index performance except for energy. Cheniere Energy Inc. (LNG US, -2.59%), the lone constituent for the energy sector, posted negative performance.
Article continues below advertisement
Market Realist
As the graph above shows, the Morningstar U.S. Wide Moat Focus Index (MOAT) is a healthcare-heavy index with a whopping 34% weight in the sector. Meanwhile, tech stocks represent only 10% of the index.
Tech stocks account for 28% of the S&P 500 Index. The tech sector has, hands-down, been the best-performing sector over the past few years. Despite having a heavier weight in tech stocks, the U.S. Wide Moat Focus Index has outperformed the S&P 500 index over the last five years.
As we mentioned in the previous part of this series, constituents with heavy weights—like Eli Lilly (LLY), Biogen (BIIB), and Pfizer (PFE)—were the top performers in July. This performance helped the US moat index beat the S&P 500 index in July.
Most of these stocks have continued outperforming broader markets in August. But tech stocks have had a good month so far, meaning the S&P 500 has a lead over the moat index this month.
However, it makes sense to invest in the moat index via the ETFs that track them. Moat companies, by definition, hold an advantage over other companies, which explains why they've outperformed over the long term.