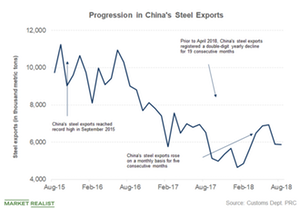 US Businesses Push Back against Trump's Tariffs
Coordinated pushback
So far, American businesses haven't been able to influence President Trump's decisions regarding tariffs. However, they have decided to form a united front to push back on tariffs.
The business groups are led by the National Retail Federation and an agricultural group known as Farmers for Free Trade. These groups highlighted how tariffs are damaging their businesses and workers in states with a large number of Trump supporters.
Article continues below advertisement
Article continues below advertisement
Public attack
As Reuters reported, "After months of waging a behind-the-scenes war against President Donald Trump's trade tariffs that have escalated far beyond what business groups once imagined, more than 85 U.S. industry groups are launching a coalition on Wednesday to take the fight public." These groups include Amazon (AMZN), Apple (AAPL), Walmart (WMT), and Alphabet (GOOG).
"Tariffs Hurt the Heartland"
These groups contend that trade issues must be addressed, but they believe tariffs are the wrong way to resolve these issues. Farmers for Free Trade's campaign was rolled out on September 12 with the slogan "Tariffs Hurt the Heartland." These businesses believe that these tariffs could nullify the tax gains that have fueled the stock markets (SPY)(QQQ) in 2018.
These US companies have upped the ante as Trump has signaled that practically all Chinese imports could be slapped with tariffs. Previously, only the industrial machinery and intermediate electronic parts industries would be impacted by these tariffs. However, the expansion of the tariff base is expected to impact a large number of businesses and consumers, leading to this backlash.