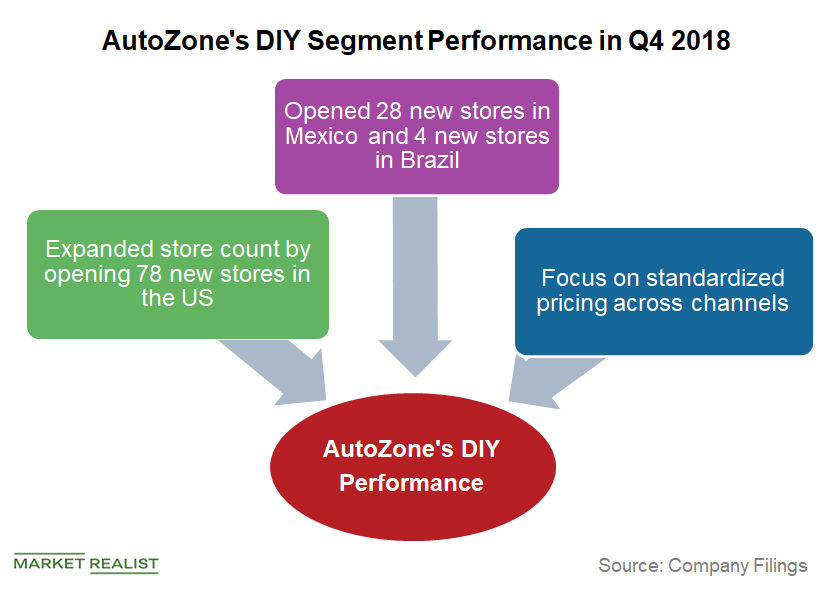 How AutoZone's DIY Segment Performed in Fiscal Q4 2018
AutoZone's business segments
AutoZone's (AZO) results are mainly divided into two business segments: DIY (Do It Yourself) and Commercial, also referred to as DIFM (Do It for Me). The DIY segment is targeted to retail customers, which yield higher margins for the company than the DIFM segment. Let's take a look at how the DIY segment performed in the fiscal fourth quarter.
For AutoZone, the retail DIY division is a major business segment. It involves selling auto parts to customers without providing mechanics' assistance to install or replace those parts in the vehicle.
Article continues below advertisement
New stores openings
During the fiscal fourth quarter, AZO opened 78 new stores in the United States and relocated four stores. This increased the company store count to 5,618 at the end of the fiscal fourth quarter in its home market. In the quarter, the company opened 28 new retail stores in Mexico and four new retail stores in Brazil. This expansion brought its store count to 564 in Mexico and 20 in Brazil.
Based on its number of stores in the United States, AutoZone is the largest auto parts retailer in the country, ahead of O'Reilly Automotive (ORLY) and Advance Auto Parts (AAP). AZO's key focus on expanding its international market presence also gives it an edge over AAP and ORLY. Among the automakers (FXD), General Motors (GM) is the largest US automaker and is followed by Ford (F).
The DIY segment in fiscal Q4 2018
In the second half of fiscal 2018, AutoZone's management decided to discontinue aggressive promotional discounts for its ship-to-home sales. The move to discontinue the e-commerce promotions affected its same-store sales, and it acted as a headwind of about 40 basis points to comp sales in the fiscal second half. This move was expected to standardize the pricing of its products across the Internet and stores, which AZO calls the omnichannel experience.
During the fiscal fourth-quarter conference call, AutoZone CEO William Rhodes justified the move and noted, "We were concerned about the potential channel conflict. After several months of being dark in promos, while competitors continued to promote, we became concerned that we potentially were or could negatively impact our customers' value proposition of us."
In the next part, we'll take a look at AutoZone's commercial business performance in the fiscal fourth quarter.