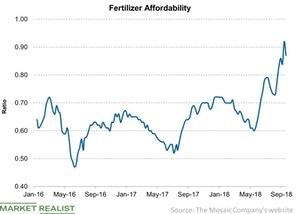 Fertilizer Affordability Pressure Eased Last Week
Fertilizer affordability
In the week ending September 21, fertilizer affordability eased after increasing the previous week. Mosaic (MOS) issues the Fertilizer Affordability Index. A level below one indicates that fertilizer affordability was higher than in 2005—the base year. Last week, the Fertilizer Affordability Index fell to 0.87x from 0.92x the previous week.
Article continues below advertisement
What drove it?
The Fertilizer Affordability Index is driven by the Plant Nutrient Price Index and Crop Index. The Plant Nutrient Price Index includes the prices of the key fertilizers that we discussed in this series. The Crop Index includes key fertilizer consuming crops like wheat, corn, and soybeans. Last week, the improvement in the Fertilizer Affordability Index was driven by an increase in the Crop Index or crop prices. As a result, the fertilizer cost as a ratio to the crop prices became relatively affordable compared to the previous week.
While the Fertilizer Affordability Index was below one, it's still higher compared to the average levels observed since January 2016. In the above chart, you can see that the affordability has been impacted negatively in the past year. Usually, lower fertilizer affordability or a higher index level isn't good for companies (XLB) like Nutrien (NTR), CF Industries (CF), and Intrepid Potash (IPI).
For more updates, visit Market Realist's Fertilizers Research page.