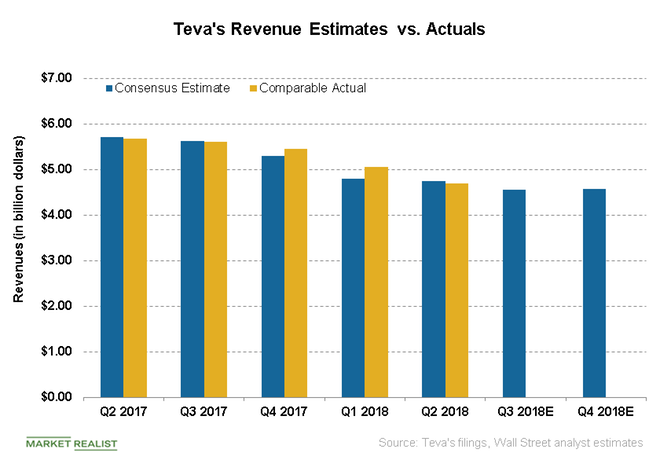 Competition Dynamics for Ajovy—Teva's Migraine Drug
Teva's Ajovy approved by the FDA
Teva Pharmaceutical Industries (TEVA) received FDA approval for its Ajovy (fremanezumab-vfrm) injectable on September 14. Ajovy is the long-awaited key drug in Teva's specialty assets portfolio and is expected to boost the company's sales, which have declined in the last few quarters.
The chart below shows the company's quarterly sales trend. The marketing application for Ajovy was filed by Teva in Europe in February.
Article continues below advertisement
Article continues below advertisement
Ajvoy to face competition from multiple entrants
Teva's (TEVA) Ajovy is an anti-CGRP (calcitonin gene-related peptide) migraine prevention treatment and offers monthly and quarterly dosage options. Ajovy is the second anti-CGRP monoclonal antibody approved by the FDA for the preventive treatment of migraine in adults.
Aimovig, which was developed by Teva's competitors Novartis (NVS) and Amgen's (AMGN), already entered the market after receiving FDA approval in the United States in May. Amgen also received EMA (European Medicines Agency) approval for Aimovig in July. Aimovig is a self-administered once-monthly dosage treatment that's administered through Amgen's SureClick autoinjector.
Another competing drug, Eli Lilly's (LLY) galcanezumab, expects its FDA action date to occur later this month. Alder Biopharmaceuticals (ALDR) is also developing a competing candidate, eptinezumab, for the preventive treatment of migraine in adults. Eptinezumab is currently undergoing trials. As a result, Teva's Ajovy has multiple competitors set to enter the market.
Be sure to check out all the data we've added to our quote pages. Now you can get a valuation snapshot, earnings and revenue estimates, and historical data as well as dividend information. Take a look!