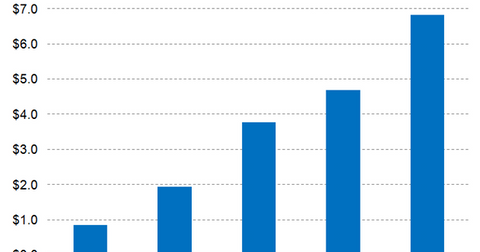 Why Vertex Is Expected to Report Robust EPS Growth in 2018
By Margaret Patrick

Updated
Expenses guidance and EPS projections
In its Q2 2018 earnings conference call, Vertex Pharmaceuticals (VRTX) reiterated its projection for non-GAAP combined selling, general, and administrative (or SG&A) and research and development (or R&D) expenses to come in in the range of $1.5 billion and $1.55 billion for fiscal 2018. These expenses are mainly attributable to R&D and supply chain investments by the company for advancing its triple combination regimens in the CF indication as well as launch-related expenses for Symdeko. In Q2 2018, the company reported non-GAAP combined R&D and SG&A expenses close to $388 million.
Article continues below advertisement
Vertex Pharmaceuticals is working to complete the enrollment of test subjects in phase three trials evaluating the company's triple combination regimens consisting of next-generation correctors, VX-445 and VX-659, in the CF indication in the second half of 2018. The company expects to submit NDAs for these triplet combination regimens by mid-2019 at the latest.
Wall Street analysts have projected Vertex Pharmaceuticals' fiscal 2018 adjusted diluted EPS to be around $3.8, which would be a YoY rise of approximately 93.1%. Peers Regeneron (REGN), United Therapeutics (UTHR), and Gilead Sciences (GILD) are expected to report adjusted diluted EPS close to $20.35, $15.09, and $6.58, respectively, in fiscal 2018.
Research programs
On February 14, Vertex Pharmaceuticals announced favorable results from its phase two study evaluating the NaV1.8 inhibitor VX-150 in the acute pain indication after bunionectomy surgery. The drug has also demonstrated its efficacy in another phase two study in chronic osteoarthritis pain. Vertex Pharmaceuticals expects to have results from the phase two study evaluating VX-150 for neuropathic pain in H1 2019.
The company, however, has discontinued the development of its follow-on NaV1.8 inhibitor based on unfavorable pharmacokinetic and tolerability data. Vertex Pharmaceuticals has also collaborated with CRISPR Therapeutics to develop a gene-editing therapy, CTX001, using the CRISPR/Cas9 platform, in beta-thalassemia and sickle cell disease indications. The company has already secured approvals for a clinical trial application for CTX001 in both sickle cell disease and beta thalassemia indications in the UK and Canada. The company aims to begin its first study for CTX001 in the beta-thalassemia indication in late 2018.