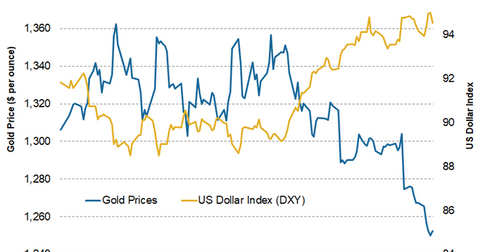 Is This the Beginning of the End for the US Dollar's Rally?
By Anuradha Garg

Updated
Dollar gains, while gold loses
One of the culprits for weaker gold prices in 2018 is the strength in the US dollar. Since gold is denominated in the dollar, strength in the dollar causes gold to become expensive in other currencies, thereby dampening its demand. Year-to-date, the UUP ETF has risen 4.9%, while the SPDR Gold Shares (GLD) has seen a decline of 7.7%. In 2018, due to trade war concerns, Chinese currency and the economy have weakened, which is boosting the dollar's safe-haven bids. In addition, the performance of emerging markets (EEM) has been underwhelming. The relative outperformance of US equity markets (SPY) (VOO) has also driven the dollar's gains.
Article continues below advertisement
The beginning of the end for the dollar's rally?
However, since the long interest in the dollar has reached a multiyear high, many market participants have started wondering if this is the beginning of the end of the dollar's rally. For the week ended August 24, the dollar ended with a weekly decline of 0.9%, which is its biggest decline since March.
According to CNBC, Bob Parker, an investment committee member at Quilvest Wealth Management, said, "I think there's a very high probability that we're in the end game of dollar strength against most currencies." He also finds it inconsistent that the Fed is talking about three rate hikes in the next year while forecasting growth of just 2.4%. The Fed usually tries to maintain a consistent price level and full employment in the economy. Parker also feels that other currencies could turn around and show more strength compared to the dollar in 2019. Morgan Stanley analysts also believe that the US dollar is "topping out," according to Bloomberg.
President Trump and the dollar
Moreover, it's no secret that President Trump wants the weaker dollar to support the country's exports. He has also criticized the Fed for raising interest rates. While his comments are not expected to influence the Fed's policy, the dollar usually weakens after such comments, as they underscore the administration's leaning towards a weaker currency.
Lastly, while the US dollar has been gaining as a safe-haven asset as trade concerns heighten, further escalation could leave it vulnerable, which would likely be beneficial for gold (IAU) and gold equities (GDX) (NUGT), as they are essentially a levered play on the precious metal.