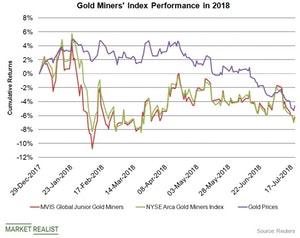 How Gold Stocks Have Performed This Year
By VanEck

Updated
VanEck
Gold Stocks Have Outperformed Gold Since February
Finally, the Fed raised rates for the second time this year on June 13 and upped its guidance to four rate increases in 2018. This lent additional strength to the U.S. dollar, putting pressure on gold. During June, gold fell $45.35 (3.5%), ending the month near its low for the year at $1,253.17 per ounce. Gold stocks outperformed gold in June, as the NYSE Arca Gold Miners Index (GDMNTR)2 and the MVIS Global Junior Gold Miners Index (MVGDXJTR)3 both fell 0.2%.
Article continues below advertisement
Gold and gold stocks have shown similar performance in the first half of 2018. Gold declined 3.8%, while the GDMNTR fell 4.0% and the MVGDXJTR declined 4.4%. The gold price was held in check by a lack of macroeconomic catalysts and the strength of the U.S. dollar. Gold stocks significantly underperformed gold early in the year, with the underperformance reaching 10% in February. However, since then, stocks have outperformed to pull even with gold at mid-year.
Market Realist
Movement in gold stocks this year
As we discussed in the previous part, when the US dollar strengthens, gold prices weaken. The Fed has started normalizing rates, which has supported the US dollar further. The growing economy, the declining unemployment rate, and better job figures have pressured the Fed to hike rates. The dollar has risen 3.2% YTD, while gold prices have fallen 4.6% YTD as of July 18.
Gold stocks failed to shine this year. However, they have outperformed gold YTD. Gold miner indexes like the NYSE Arca Gold Miners Index and the MVIS Global Junior Gold Miners Index track the performance of gold mining stocks. While the former tracks highly capitalized gold mining companies, the latter focuses on the most liquid junior companies in the industry. While gold prices dropped 5.0%, the NYSE Arca Gold Miners Index fell 6.1%, and the MVIS Global Junior Gold Miners Index fell 6.05% YTD. Meanwhile, the VanEck Vectors Gold Miners ETF (GDX) and the VanEck Vectors Junior Gold Miners ETF (GDXJ) are down 5.9% and 5.4% YTD, respectively.
Despite the unimpressive performance recently, gold miner stocks could prove lucrative during times of market volatility. The US economy is on a path of rising inflation. Rising inflation can weigh on stock prices. During these times, investors turn their interest to gold, as it is unaffected in a volatile market because of its low-to-negative correlation with other asset classes. Gold acts as a safe-haven asset during periods of market distress.
Investors can get exposure to gold through the above ETFs or gold mining stocks like Agnico Eagle Mines Limited (AEM), Royal Gold (RGLD), Barrick Gold (ABX), and Franco-Nevada (FNV).
In the next article, we'll discuss the impact that Fed rate hikes have had on gold prices.