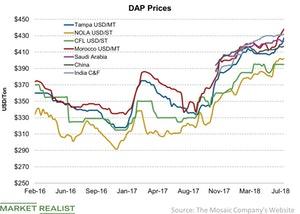 DAP Prices Continue Their Significant Rise
DAP prices
Last week, which ended July 13, DAP (diammonium phosphate) prices continued to rise at most of the locations in the chart below. Rising DAP prices boost expectations for favorable earnings outcome for companies (MXI) such as Mosaic (MOS), Nutrien (NTR), and Israel Chemicals (ICL). Let's look at DAP prices by location.
Article continues below advertisement
Article continues below advertisement
Weekly movements
Last week, DAP prices in Tampa rose the most compared to other locations, rising 1.7% week-over-week to $427 per metric ton, from $420 per metric ton. Morocco followed with prices rising 92 basis points to $438 per metric ton, from $434 per metric ton the previous week.
In NOLA (New Orleans), DAP prices rose 25 basis points week-over-week to $365 per metric ton, from $364 per metric ton. In China, prices rose 24 basis points to $417 per metric ton, from $416 per metric ton a week earlier. Similarly, DAP prices in India rose 23 basis points to $432 per metric ton from $431 per metric ton.
Central Florida and Saudi Arabia were two locations that experienced no changes in price week-over-week at $395 per metric ton and $423 per metric ton, respectively.
Yearly movements
Year-over-year, DAP prices at each of the above seven locations remained strong. In NOLA, they rose 29%. In Saudi Arabia, India, and China, they each rose 23%. In Central Florida and Tampa, prices rose 22% each year-over-year, and in Morocco, they rose 19% year-over-year.
Next, we'll look at MAP prices.