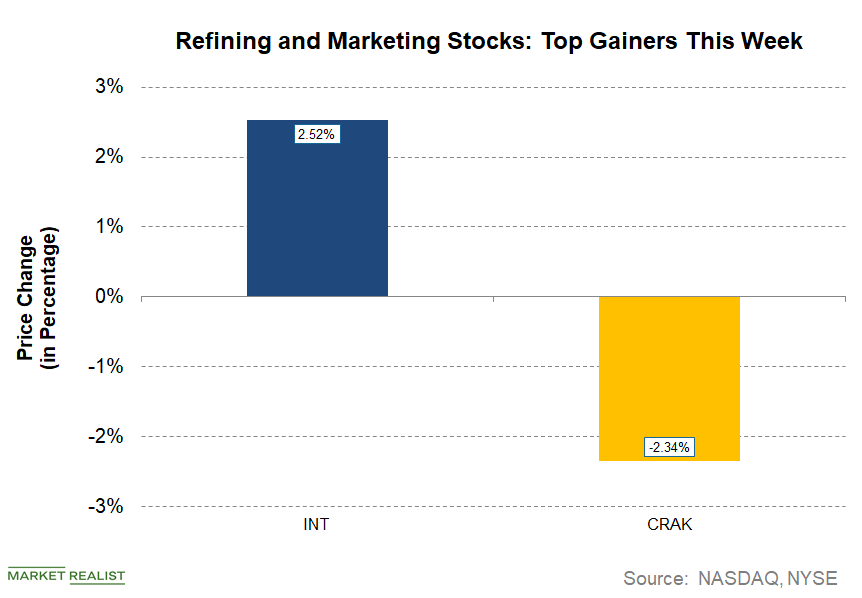 Which Refining and Marketing Energy Stocks Are Rising This Week?
Refining and marketing stocks
In this part of our series, we'll look at this week's top gainers from the refining and marketing sector. We selected the refining and marketing companies with market capitalization levels greater than $100.0 million and average trading volumes greater than 100,000 shares last week.
Article continues below advertisement
Article continues below advertisement
World Fuel Services: The only gainer
So far in the week starting June 11, World Fuel Services (INT) is the only gaining stock in the refining and marketing group. INT increased from last week's close of $21.80 to $22.35 on June 14—an increase of more than 2.5%. This week's gain in World Fuel Services (INT) came during the session on Monday, June 11. However, the company didn't issue a stock moving press release this week.
This week's increase in INT is a part of the rising trend that started on May 25. INT has risen more than 8.0% since then.
In the final week of April, INT moved below its 50-day moving average. On June 14, INT traded at $22.36. Its 50-day and 200-day moving averages stand at $23.32 and $27.43, respectively. Currently, INT is trading very close to its 52-week low of $20.53 set in February.
So far this week, the VanEck Vectors Oil Refiners ETF (CRAK) is down ~2.3% due to a decrease in gasoline (UGA) prices. Par Pacific Holdings (PARR) and Phillips 66 (PSX) declined moderately and fell ~1.0% and ~1.1%, respectively, this week and outperformed CRAK.