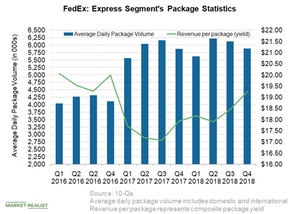 What's behind FedEx Express's Revenue Growth?
FedEx Express's revenues
In this article, we'll consider FedEx's (FDX) Express segment's performance in the fourth quarter. In the last quarter of fiscal 2018, the vertical posted revenues of $9.6 billion compared to $8.8 billion in the fourth quarter of fiscal 2017, which signifies a YoY (year-over-year) increase of 8.8%. The segment remains the largest contributor to FedEx's total revenues, accounting for 55.4% of revenues in the fourth quarter.
Article continues below advertisement
Article continues below advertisement
FedEx Express revenue breakup
The FedEx Express vertical includes US package revenues and international package revenues. The company earns US package revenues from US overnight packages and US deferred packages. In the fourth quarter, the US package revenues stood at ~$3.3 billion, up 4.4% from $3.1 billion in the corresponding quarter of 2017.
US overnight box package revenues included in US overnight package revenues accounted for 57.4% of total US package revenues in the fourth quarter. Overnight box package revenues went up 6.6% YoY. US deferred package revenues, which accounted for 28.4% of US package revenues, expanded 1.5% in the last quarter of fiscal 2018.
In the express segment, FedEx earns international package revenues from its international export package and international domestic package divisions. Its international export package revenues come from international priority package and international economy package revenues. International package revenue came in at $4.0 billion, up 10.3% in the fourth quarter compared with $3.6 billion in the corresponding quarter of fiscal 2017. Within the international export package revenues, international economy package revenues jumped 13.2% YoY. International domestic package revenues grew 10.2%.
Article continues below advertisement
Reasons behind revenue growth
The FedEx Express segment's revenues jumped mainly due to increased yields across the worldwide portfolio of package and freight services and improved freight pounds. Average daily volumes in US packages grew 1.1% YoY. On the international package front, 4.5% YoY higher average daily international economy volumes offset the 1.1% decline in international priority volumes. A solid 10.4% YoY and 11.3% YoY yield growth in international priority and international domestic packages, respectively, also boosted FedEx Express revenues.
Management outlook
FedEx believes that air fleet efficiency along with strength in the international package business should drive the Express segment's yield. In addition, the deliveries of additional new aircraft beginning in fiscal 2020 and the new services launches should drive the segment's revenue growth going forward.
Investors who seem optimistic about US transportation and logistics (CHRW) stocks can consider investing in the First Trust Industrials/Producer Durables AlphaDEX ETF (FXR). Prominent US airline (JBLU) companies and trucking (SWFT) companies together form more than 20% of FXR's portfolio.
The next article covers FedEx's Ground segment operating results.