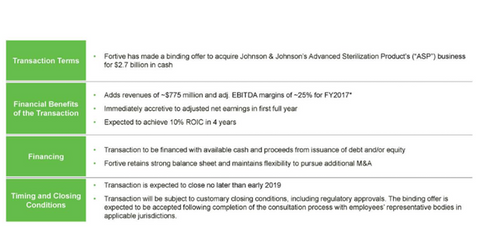 Johnson & Johnson Receives Offer to Divest Sterilization Business
By Sarah Collins

Updated
Johnson & Johnson receives an offer for its sterilization business
On June 6, Johnson & Johnson (JNJ) announced it had received a $2.8 billion offer from Fortive (FTV) to sell its ASP (Advanced Sterilization Products) business, part of its subsidiary, Ethicon. The deal consists of $2.7 billion in cash proceeds and $0.1 billion in retained net receivables.
Ethicon's ASP business, a market leader in infection prevention solutions, generated sales of $775 million in fiscal 2017. The deal is the latest of J&J's divestitures after it announced the restructuring of its medical device business, which had not been performing well over the last few years but has been a strong growth driver in recent quarters.
The Ethicon-Fortive deal
Johnson & Johnson has 120 days to decide on the offer. If it agrees, the deal is expected to close by early 2019. Fortive has plans to finance the acquisition through available cash and equity or debt. Fortive expects the deal to add to its adjusted earnings in the first year.
According to a Johnson & Johnson press release, Interventional Solutions and Specialty Surgery chair Shlomi Nachman said, "As we balance the interests of all our stakeholders to deliver the greatest value to customers, healthcare providers and shareholders, we must continuously assess strategic fit and explore alternatives for our businesses." He added, "ASP has a long history of pioneering infection prevention technology, and we are confident that Fortive would be well-positioned to continue to drive the business toward achieving its full potential."
Check out all the data we've added to our quote pages. Now you can get a valuation snapshot, earnings and revenue estimates, and historical data as well as dividend info. Take a look!