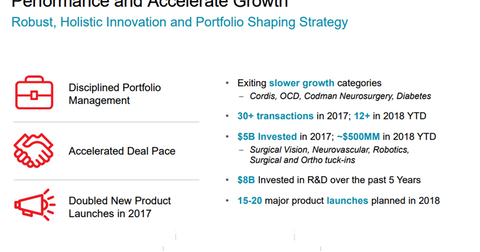 Johnson & Johnson Accepts Sale of Its LifeScan Business
By Sarah Collins

Updated
Johnson & Johnson's LifeScan business sells for $2.1 billion
On June 12, Johnson & Johnson (JNJ) announced it had accepted a $2.1 billion offer for the sale of its LifeScan business, which manufactures blood glucose monitoring devices and OneTouch products, from private equity company Platinum Equity. On June 12, JNJ stock fell ~0.42% following the deal announcement.
Platinum Equity offered to buy Johnson & Johnson's LifeScan unit in March. In January, some Chinese companies expressed interest in purchasing the business for $3 billion–$4 billion, according to Reuters.
J&J's plans for its diabetes business
The deal, expected to close by the end of fiscal 2018, is Johnson & Johnson's latest move toward exiting its diabetes business, which has been witnessing slower growth amid increased competition. The business shrank ~10% YoY (year-over-year) in fiscal 2017 due to pricing pressure and intense competition from the likes of Medtronic (MDT), DexCom (DXCM), and Insulet (PODD). In fiscal Q1 2018, the company's diabetes business shrank ~15% YoY. The company's restructuring plan is outlined in the above figure. 
The company's diabetes business comprises its LifeScan, Animas, and Calibra Medical units. As part of Johnson & Johnson's restructuring plan, the Animas unit exited its insulin pump business in October 2017. The LifeScan business came up for grabs after the company expressed its intention to exit its ailing diabetes business. 
Check out all the data we've added to our quote pages. Now you can get a valuation snapshot, earnings and revenue estimates, and historical data as well as dividend info. Take a look!