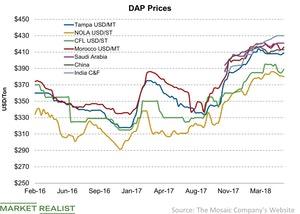 How DAP Prices Performed Last Week
By Adam Jones

Updated
DAP prices
Last week, the DAP (diammonium phosphate) prices were broadly mixed at the seven locations discussed below. Three experienced a positive week-over-week change, while three saw flat price movement and one experienced a week-over-week decline in DAP prices.
Article continues below advertisement
Weekly movements
One of the three locations that experienced a weekly gain in DAP prices includes Central Florida, which saw a 1% gain week-over-week to $353 per metric ton (or $389 per short ton) from $349 per metric ton a week ago. Similarly, prices in Tampa saw a weekly gain of 49 basis points to $409 per metric ton from $407 per metric ton a week ago. Outside the United States, DAP prices in Morocco rose by as much as 73 basis points week-over-week to $416 per metric ton.
In contrast to the above locations, DAP prices in NOLA (New Orleans) fell by 26 basis points week-over-week to $345 per metric ton. The remaining three locations saw sideways movement in prices last week:
Prices in Saudi Arabia were flat at $421 per metric ton.
Prices in China were flat at $413 per metric ton.
Prices in India were flat at $430 per metric ton.
Yearly movements
Year-over-year, DAP prices remain strong with NOLA and China each seeing a 21% gain year-over-year. Prices in India rose 19%. Pries in Saudi Arabia and Central Florida each experienced an 18% gain, while prices in Tampa rose by 16%. Lastly, prices in Morocco were up by 13% year-over-year.
Companies (NANR) such as Mosaic (MOS), which is one of the largest phosphate producers, along with Nutrien (NTR) and Israel Chemicals (ICL) benefit from these gains.