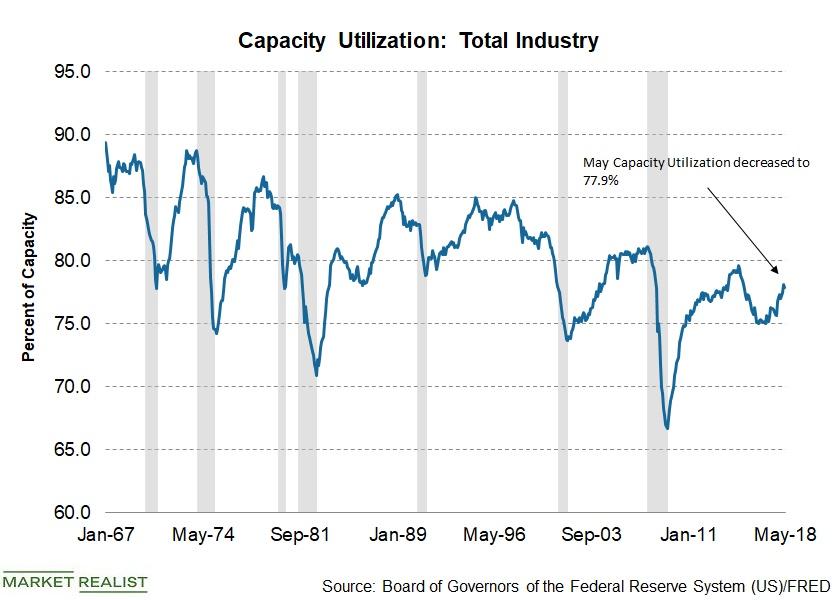 How Capacity Utilization across US Industries Trended in May
By Ricky Cove

Jun. 18 2018, Published 8:05 a.m. ET
Capacity utilization and the US economy
The Federal Reserve publishes capacity utilization data along with industrial production data every month. Capacity utilization in industries is a precise indicator of economic progress, as industries make changes to production planning depending on anticipated demand for their products.
Capacity utilization, as the name suggests, is the percentage of capacity utilized of the total potential output. In the US, the historical average capacity utilization stands at 79.8%. The highest level of capacity utilization occurred during the 1988–1989 period. Among the US industrial sectors, the mining (PICK) and utilities (IDU) sectors have the highest historical capacity utilization rate of 87.0% and 85.4%, respectively.
Article continues below advertisement
Capacity utilization in May
According to the industrial production and capacity utilization report published by the Federal Reserve, the total industry capacity utilization in May has fallen from the upward revised April reading of 78.1 to 77.9 in May. Capacity utilization has declined in the manufacturing sector, while the mining and utilities (XLU) sectors recorded healthy gains in May. The mining industry, which includes gas and oil exploration, improved from the upward revised reading of 91.1% in April to 92.4% in May, which was the highest level of capacity utilization ever reported in the mining sector. The utility sector (VPU) capacity utilization increased from 78.8% in April to 79.4% in May.
Industrial production, capacity utilization, and the future of the US economy
Capacity utilization and industrial production are strong indicators of future economic growth. The minor decline in industrial (XLI) production and capacity utilization is not a major reason to worry if the upward trend remains intact. Tax cuts and changes to tax policies have had a positive impact. And these changes coupled with increased consumer confidence, low unemployment, and increasing wages are all likely to extend US economic expansion. The threat from increased trade tensions is likely the only uncertainty that could disrupt industrial progress in the next few months.