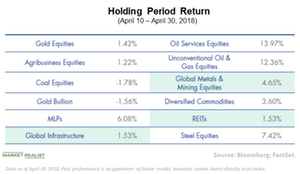 The RAAX ETF: What to Own in Real Assets
By VanEck

Updated
VanEck
A Closer Look at the What, When, and How
Step One: What to Own
The aphorism "a rising tide lifts all boats" is appropriate here. April was a great month to invest in real assets. Each real asset in our investment universe and the approximated holding period return of the underlying index is listed below. The assets that we were bearish on are shaded.
Market Realist
Commodities delivered handsome performance in April
Major commodities, as represented by the Bloomberg Commodities Index, were up 2.6% in April. Among the major asset classes, commodities topped the performance chart. The outperformance came after two months of consistent declines. The Thomson Reuters CRB Commodity Equity Index also gained 3.1% in April.
Oil services topped the performance chart
The gain in the commodities index came on the back of decent upside in oil and gas, metals, mining, and agriculture commodities. The VanEck Vectors Oil Services ETF (OIH) delivered whopping 13.7% returns in April, while the VanEck Vectors Unconventional Oil & Gas (FRAK) gained 11.2%. Similarly, the VanEck Vectors Steel ETF (SLX) delivered 5.7% returns in April while the VanEck Vectors Gold Miners ETF (GDX) was up 1.4%. The VanEck Vectors Agribusiness ETF (MOO) rose by a modest 0.1%.