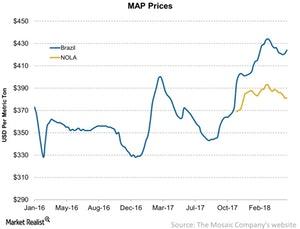 Monoammonium Phosphate Prices and Mosaic's Views on Brazil
Monoammonium phosphate prices
Like DAP (diammonium phosphate) prices last week, MAP (monoammonium phosphate) prices were broadly flat to positive WoW (week-over-week) but stayed higher YoY (year-over-year). MAP prices in Brazil rose 71 basis points WoW to $424 per metric ton from $421 per metric ton, and 16% YoY from $365 per metric ton. NOLA (New Orleans) MAP prices were flat WoW at $381 per metric ton but rose ~23% YoY from $310 per metric ton.
Article continues below advertisement
Notes from Mosaic's 1Q18 earnings
In its recent 1Q18 earnings call, The Mosaic Company (MOS) stated that whereas Brazil has seen stability in commodity prices along with strong grower economics, its currency has been weak. This weakness makes commodity export metrics more favorable for growers.
The company also added that key regions such as Brazil and India have supported price (XLB) stability. This stability favors Nutrien (NTR), CF Industries (CF), and Israel Chemicals (ICL).