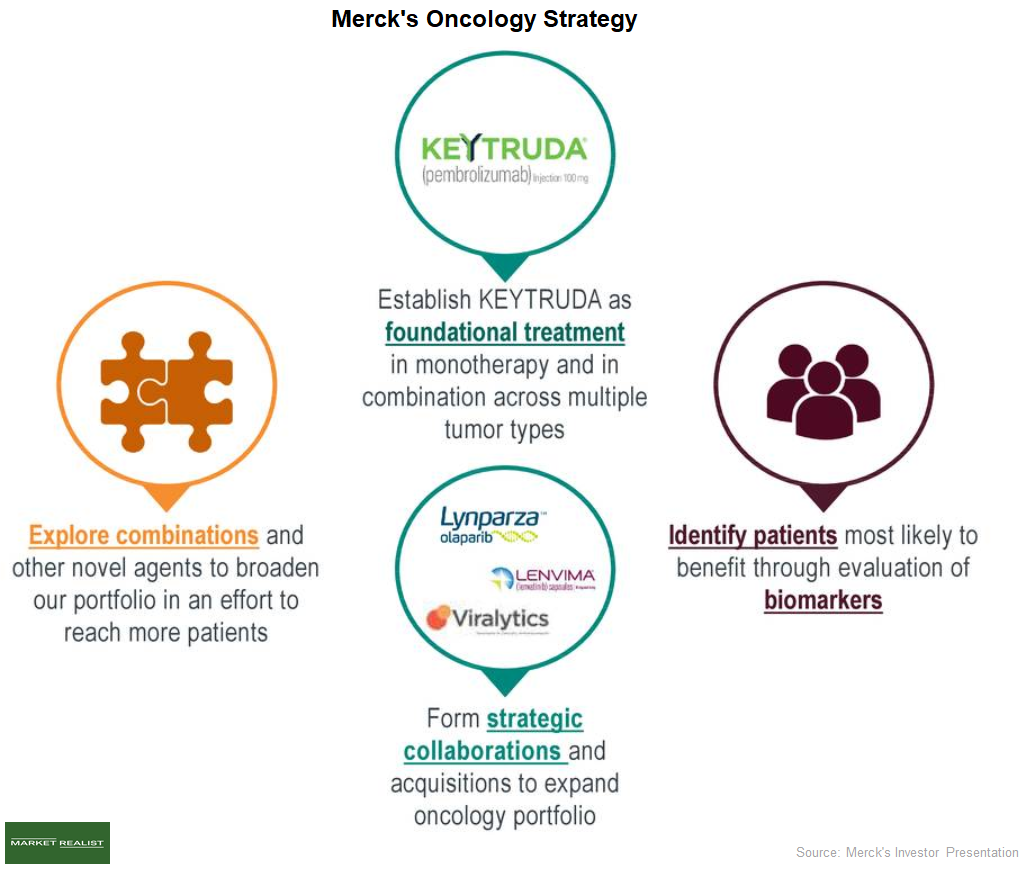 Keytruda and Lynparza Are Expected to Be Merck's Growth Drivers
By Daniel Collins

May. 29 2018, Updated 9:01 a.m. ET
Lynparza revenues, recent developments
Merck & Company (MRK) generated $33 million in alliance revenues from the sales of Lynparza in the first quarter. The company generated revenues of $24 million and $9 million, respectively, from the sales of Lynparza in US and international markets.
In May, the EMA (European Medicines Agency) approved Lynparza 300 mg tablets twice daily as a maintenance therapy for individuals with platinum-sensitive relapsed high-grade epithelial ovarian, fallopian tube, or primary peritoneal cancer who showed a complete or partial response to platinum-containing chemotherapy irrespective of BRCA designation.
The European Commission's approval of Lynparza was based on the results from the SOLO-2 and Study 19 trials.
In the SOLO-2 trial, patients receiving Lynparza showed a median progression-free survival rate of 30.2 months compared to 5.5 months for patients on the placebo therapy.
Article continues below advertisement
AstraZeneca and Merck have also submitted regulatory filings to the EMA for the approval of Lynparza for the treatment of individuals with HER2-negative metastatic breast cancer with BRCA mutation. The regulatory filing for HER2-negative breast cancer was supported by data from the Phase 3 OlympiAD trial.
Keytruda for melanoma
In April, Merck and the European Organisation for Research and Treatment of Cancer announced the results from the Phase 3 KEYNOTE-054 trial. Merck conducted the trial to evaluate the safety and efficacy of Keytruda in the treatment of high-risk stage III melanoma.
The analysis of the clinical trial demonstrated that Keytruda had substantially prolonged the RFS (recurrence-free survival) rate, which decreased the risk of disease recurrence or death by 43% compared to the placebo therapy. The primary endpoint of the trial was the evaluation of the RFS rate in the overall trial population. In the clinical trial, after one year, Keytruda demonstrated a one-year RFS rate of 75.4% compared to the placebo therapy's 61.0%.
Keytruda's label expansion is expected to significantly boost its revenue growth in 2018 and beyond.
Some important drugs in the market for the treatment of melanoma include Roche Holding's (RHHBY) Zelboraf, Amgen's (AMGN) Imlygic, and Bristol-Myers Squibb's (BMY) Yervoy.