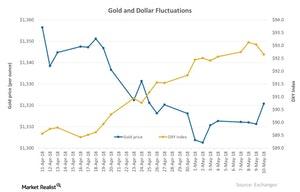 How the Dollar's Surge Affected Precious Metals
By Meera Shawn

May. 17 2018, Updated 7:33 a.m. ET
Dollar strengthens
One of the most crucial factors causing a slump in the price of precious metals is the revival of the US dollar. The DXY, which prices the dollar against a basket of six major world currencies, rose 0.68% on May 15. The DXY gained 3.8% over the last month. During the same timeframe, gold fell 4.2%.
During the past few months, the US dollar (UUP) has been the most critical driver of gold prices. The reason behind a significant rebound in the dollar is the potential upswing in US yields.
The chart above shows the inverse relationship between the dollar and gold over the last month.
With the clash between Israeli troops and Palestinian protesters on the Gaza border on May 14, tensions increased. Plus, the high-profile opening of the US embassy to Israel in Jerusalem could have also provided some support to the US dollar. Investors often seek the dollar as a haven asset.
Article continues below advertisement
Negative correlation
Any rise in the dollar indicates lower demand for dollar-based assets such as gold and silver, and a drop in the dollar is usually beneficial for precious metals. This is because a higher dollar is detrimental to the demand of dollar-based assets like gold.
Year-to-date, the correlation between gold and the dollar has been -0.81, This correlation indicates that about 81.0% of the time, gold and the dollar moved in opposite directions to each other. The rest of the time, the movement in gold was uncorrelated to the dollar.
Precious-metal-based funds that closely track metals and may be affected by the US dollar (UUP) include the iShares Gold Trust ETF (IAU) and the iShares Silver Trust ETF (SLV). These funds fell 1.7% and 1.5%, respectively, on May 15.
The mining companies that fell on Tuesday included Barrick Gold (ABX), Randgold Resources (GOLD), Kinross Gold (KGC), and Cia De Minas Buenaventura (BVN). These miners were down 2.3%, 2.3%, 2.2%, and 0.90%, respectively, on Tuesday.