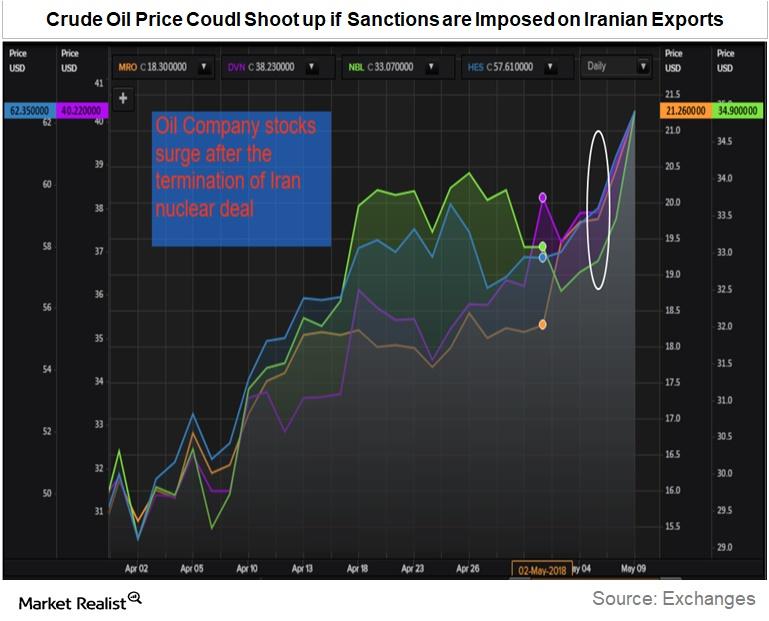 Analyzing the Possible Impacts of the Iran Deal Exit
By Ricky Cove

May. 11 2018, Published 8:10 a.m. ET
Regional conflicts could escalate
President Trump's decision to withdraw from the Joint Comprehensive Plan of Action (or JCPOA) could lead to regional conflicts in the Middle East. Israel and Saudi Arabia, two of Iran's neighbors, have extended support to President Trump's decision, which could escalate the tensions in the region. If these clashes escalate out of control, it would lead to a scenario that could impact all asset classes. Though this scenario is only speculation at this point, the immediate effect of it would be surrounding crude prices (USO). Stock prices of energy (XLE) companies like Marathon Oil (MRO) and Hess have zoomed higher since the Iran deal pull-out and look set for further gains if crude prices continue to surge.
Article continues below advertisement
Crude prices could shoot up
The immediate impact of a potential escalation is an increase in the price of crude oil (DWT), which has already moved to its highest level in four years. There was a high level of volatility before and during President Trump's speech on Iran, and crude prices have since moved above $70 per barrel, the highest level in the last four years. The head of OPEC (or Organization of the Petroleum Exporting Countries), Secretary General Mohammad Barkindo, in an interview with CNN Money said that any extraneous factor that affects supply will send the market into a disequilibrium. Sanctions on Iran would target oil exports from the country. Because Iran is the fifth largest exporter of oil, sanctions would disrupt the supply and result in higher crude oil (UCO) prices.
Iran deal exit might not be that bad for prices
A report released from Goldman Sachs said that new sanctions on Iran coupled with supply disruptions in Venezuela could lead to higher crude oil prices. Iran produces 4% of the global oil output, but it is not clear what sanctions will be imposed or how they would impact supplies. Saudi Arabia has expressed willingness to offset any shortfall in supply, and such measures by other OPEC members could limit the ascent of crude prices. In the next part of this series, we'll analyze how markets (SCHF) reacted to the Iran nuclear deal pull-out.