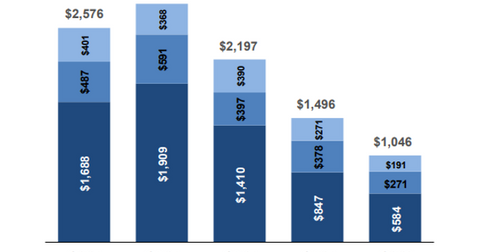 A Look at Gilead Sciences' Competitive Scenario
By Kenneth Smith

Updated
Viread and Epclusa
Gilead Sciences' (GILD) Viread sales decreased 63% from $260 million in Q1 2017 to $97 million in Q1 2018. Epclusa sales, which accounted for 12% of Gilead's total antiviral product sales in the first quarter, decreased from $892 million in Q1 2017 to $536 million in Q1 2018.
Article continues below advertisement
Factors affecting HCV sales
Sales of Harvoni decreased 75% from $1.4 billion in Q1 2017 to $348 million in Q1 2018. Gilead expects a decline in HCV (Hepatitis C virus) product sales this fiscal year compared to fiscal 2017 due to increased competition. HCV revenues are a function of patient starts, net product pricing, market share, and duration of treatment. Of these factors, treatment duration and pricing have largely stabilized. Gilead expects its market share to stabilize by mid-2018 with more predictable but slightly declining patient starts going forward.
New products
In the first quarter, Biktarvy, which was approved by the FDA in February, generated sales of $35 million. Vosevi generated $107 million, and Yescarta generated $40 million.
Heightened competition
Gilead Sciences faces significant competition from global pharmaceutical, biotechnology, specialized pharma, and generic drug manufacturing companies. Its HIV products compete with products from ViiV Healthcare, which markets fixed-dose combination products. ViiV's HIV products include Tivicay, Triumeq, and Juluca. Its lamivudine competes with emtricitabine, which is the active pharmaceutical ingredient of Emtriva and a component of Genvoya, Truvada, Descovy, Odefsey, Atripla, Stribild, and Biktarvy. For Tybost, Gilead competes with AbbVie's (ABBV) ritonavir.
Gilead's HCV products Epclusa, Harvoni, Sovaldi, and Vosevi compete mainly with AbbVie's Mavyret and Merck & Co.'s (MRK) Zepatier.
Its HBV products Viread, Vemlidy, and Hepsera face competition from Baraclude, which is marketed by Bristol-Myers Squibb (BMY), and telbivudine, which is marketed by Novartis.
In the next part of this series, we'll take a look at Gilead Sciences' financial performance.