Why the Technology Industry Opposed the Broadcom–Qualcomm Deal
Broadcom (AVGO) failed to crack the technology industry's biggest acquisition of Qualcomm for $117 billion due to intervention by President Trump.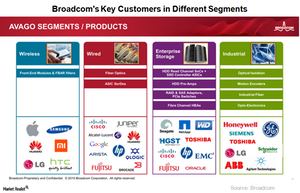 Broadcom's customer relations
Broadcom (AVGO) is known for growing through acquisitions. However, it failed to crack the technology industry's biggest acquisition of Qualcomm (QCOM) for $117.0 billion due to intervention by President Trump.
This development was welcome news for the technology industry, which opposed the deal—not only because the takeover would have made Broadcom the third-largest chip company but also because of the chipmaker's business practices.
Broadcom's CEO, Hock Tan, is popular among its customers and peers for the company's business tactics. As reported by CNBC, competitors complained that Broadcom misused its market leadership position to prevent customers from switching to alternative suppliers.
Competitors alleged that Broadcom threatened to hike prices or pressured them to sign exclusive sales deals. These unnamed sources stated that Broadcom also canceled existing contracts and demanded higher prices and if customers refused, it threatened to cut off the supply.
Article continues below advertisement
Article continues below advertisement
Western Digital–Broadcom relationship strained 
A New York Times report cited a document from Western Digital (WDC) that objected to Broadcom's practices. WDC stated that Broadcom executives asked it to enter into an exclusive supply deal in which WDC would buy its preamplifiers from Broadcom.
When WDC refused and looked for alternative suppliers, Broadcom temporarily cut off its preamplifier supply in February 2017. Broadcom eventually admitted that it should not have cut off the supply, straining the once-positive business relationship between Broadcom and WDC.
In the document, WDC advised Toshiba (TOSBF), its memory joint venture partner, to reject any offer from Broadcom to acquire a stake in the joint venture.
Amazon and Broadcom
CNBC reported a similar case in which Broadcom demanded higher prices for Ethernet networking switch processors used by Amazon (AMZN) in its data centers. People familiar with the matter alleged that when Amazon refused Broadcom's demand and switched to alternative suppliers, the chipmaker filed a wide-ranging patent infringement case against the Amazon in September 2016.
The New York Times referred to Hock Tan's interview in December 2017, in which he denied the above allegations, noting, "That's not sustainable." He added, "If you do that, customers never come back to you."
Article continues below advertisement
FTC investigates Broadcom's business practices
These allegations encouraged the US Federal Trade Commission (or FTC) to investigate whether Broadcom's business practices were anticompetitive. The FTC's concern was that Broadcom had amended some contracts in such a way that customers were forced to buy a certain percentage of its production run rather than a specific number of units. If Broadcom had acquired Qualcomm, the former's practices could have become a regulatory issue.
However, Baker Botts attorney James Rill, former head of the US Department of Justice's antitrust division, stated that the FTC's review was unlikely to affect Broadcom's hostile takeover unless there is a link to Qualcomm. Broadcom stated that its wireless business wasn't related to the FTC's review.