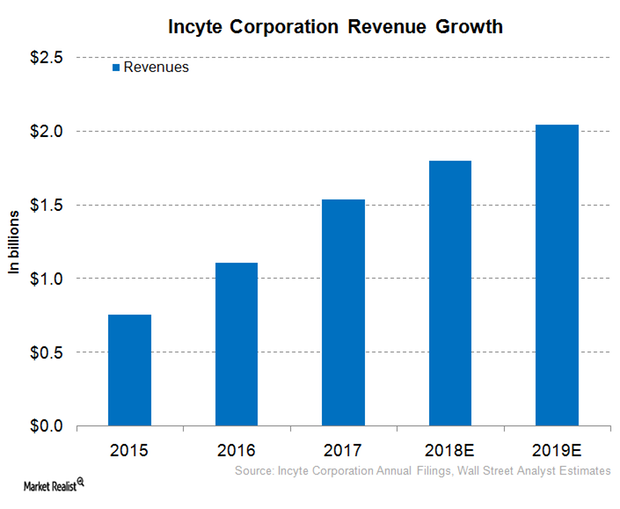 Incyte Expected to Report Robust Revenue Growth in Fiscal 2018
By Margaret Patrick

Nov. 20 2020, Updated 4:08 p.m. ET
Robust revenue growth in fiscal 2018
In 2017, Incyte (INCY) reported total revenues of close to $1.5 billion, which was year-over-year (or YoY) growth of around 38.9%. The company earned revenues close to $1.1 billion from the sale of Jakafi, a JAK1/JAK2 inhibitor, in the US, and $152 million as royalties received from Novartis (NVS) on the sale of Jakafi, marketed as Jakavi, in international markets. The company also earned $67 million in revenues from the sale of Iclusig, $175 million as milestone payments, and $9 million as royalties from the sale of Olumiant in ex-US markets from Eli Lilly (LLY) in fiscal 2017.
Wall Street analysts have projected Incyte's fiscal 2018 revenues to be close to $1.8 billion, which is a YoY rise of around 16.9%. Peers such as Amgen (AMGN) and Biogen are expected to earn revenues close to $22.6 billion and $13.0 billion, respectively, for full-year 2018.
Article continues below advertisement
Jakafi/Jakavi performance
In 4Q17, the company's leading product, Jakafi, reported revenues close to $302 million, which is a YoY rise of around 27%. The drug's sales were impacted by around $12 million due to the utilization of the inventory buildup from 3Q17 by distributors in 4Q17. The total patients using Jakafi also rose 22% on a YoY basis in 4Q17. In 2H17, the drug reported YoY revenue growth of around 31%. For full-year 2017, the drug reported sales close to $1.1 billion, which is 33% higher on a YoY basis.
The company has estimated that approximately 11,000 patients in the US were using Jakafi in 4Q17. While the patient mix is currently inclined more towards the myelofibrosis (or MF) indication, Incyte expects to witness a gradual rise in polycythemia vera (or PV) patients using Jakafi in the coming quarters. A strong rise in demand coupled with rising persistency is expected to boost the revenue trajectory for the drug and subsequently for Incyte in fiscal 2018. To know more about Jakafi/Jakavi's performance in 2017, please read Incyte's Jakafi in 2017.
Check out all the data we have added to our quote pages. Now you can get a valuation snapshot, earnings and revenue estimates, and historical data as well as dividend info. Take a look!
In the next article, we'll discuss revenue guidance for Jakafi/Jakavi in greater detail.