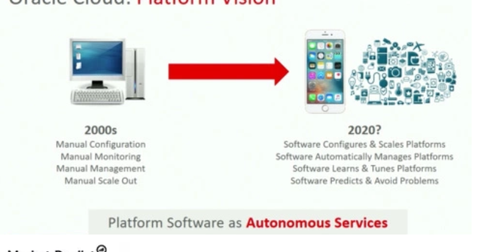 How Oracle Plans to Increase Market Share in IaaS and PaaS Space
By Anne Shields

Apr. 6 2018, Updated 2:32 p.m. ET
Oracle's autonomous cloud service offerings
Earlier in the series, we discussed Oracle Autonomous Data Warehouse Cloud and its growing dominance. This announcement follows on the heels of the company's expansion of its Oracle Cloud Platform Autonomous Services.
In its latest earnings release, Oracle (ORCL) shared that in the next few months, it aims to deliver autonomous mobility, autonomous analytics, autonomous application development, and autonomous integration services. Its new suite of autonomous PaaS services delivers a high level of automation and cost savings by reducing human labor. Not only is cost efficiency improved but also reliability and security owing to the reduced human error.

Article continues below advertisement
Though Oracle recognized Amazon's dominance in the hardware-centric public cloud IaaS space, Larry Ellison shared that PaaS and SaaS, which are software-based, will lay the groundwork for success in the cloud space. Citing Ellison, Forbes wrote, "Now, everyone knows and everyone gives rightful credit to Amazon for kind of inventing the market for infrastructure as a service—they noticed that, in a lot of ways, it's more efficient to rent computers than to buy computers." He further added, "But the way Oracle plans on and is in the process of differentiating itself from Amazon is to offer a complete suite of platform services that are at a higher level than low-level infrastructure stuff."
Oracle's autonomous cloud offerings will cater to the much-needed demand of digitization
Oracle's suite of new autonomous cloud software offerings is making its way in the market at a time when organizations' expectations from technology have gone beyond cost-cutting and efficiency. In the current wave of digitization, companies are in the midst of a transition in which they need modern enterprise IT to get new insights, release funding for growth initiatives, enhance customer engagement, and provide cybersecurity.
Leveraging its long-standing expertise in the enterprise-software space, Oracle aims to deliver PaaS with high performance, security, and sophistication features, which might help the company position itself among the leading cloud players.