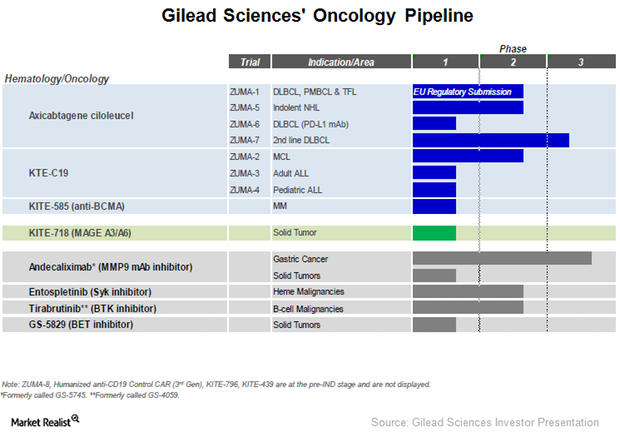 Gilead Sciences has a Strong Oncology Research Program
By Margaret Patrick

Apr. 25 2018, Updated 9:02 a.m. ET
Oncology research program
Gilead Sciences (GILD) is currently studying a combination of anti-MMP-9 (anti-matrix metalloproteinase-9) antibody andecaliximab with modified FOLFOX 6 in a Phase 3 trial as a therapy for treatment-naïve advanced gastric or GAMMA-1 (gastroesophageal junction adenocarcinoma) patients. In 2H17, the trial was evaluated by an independent data monitoring committee, which recommended continuing with the study.
Article continues below advertisement
The company also expects to conclude its Phase 2 trial comparing an andecaliximab-nivolumab combination with a nivolumab monotherapy in gastric cancer in 2018. If these trials prove successful, Gilead Sciences could emerge as major competition for other gastric cancer therapy players such as Eli Lilly (LLY) and Roche (RHHBY).
Acquisition of Kite Pharma
On October 2017, Gilead Sciences completed the acquisition of Kite Pharma for a net consideration of $11.9 billion. This deal added Kite's leading CAR-T (chimeric antigen receptor T-cell) therapy, Yescarta, as a robust research pipeline targeting hematologic malignancies and solid tumors, and a strong technology platform, to Gilead Sciences' portfolio. To know more about this acquisition, read Must-Know Recent Developments for Gilead.
In October 2017, Yescarta was approved by the FDA for adult patients with certain types of diffuse large B-cell lymphoma who have failed to respond or have relapsed despite having received at least two lines of therapy. Yescarta is the second CAR-T therapy to be approved by the FDA, after Novartis's (NVS) Kymriah. Celgene (CELG) and bluebird bio (BLUE) are also actively involved in the development of CAR-T therapies for oncology indications. At the end of 4Q17, Gilead Sciences had authorized 28 centers to administer Yescarta. The company expects to expand its base by training staff and certifying additional centers to develop the capacity to treat almost 80% of Yescarta-eligible patients by mid-2018.