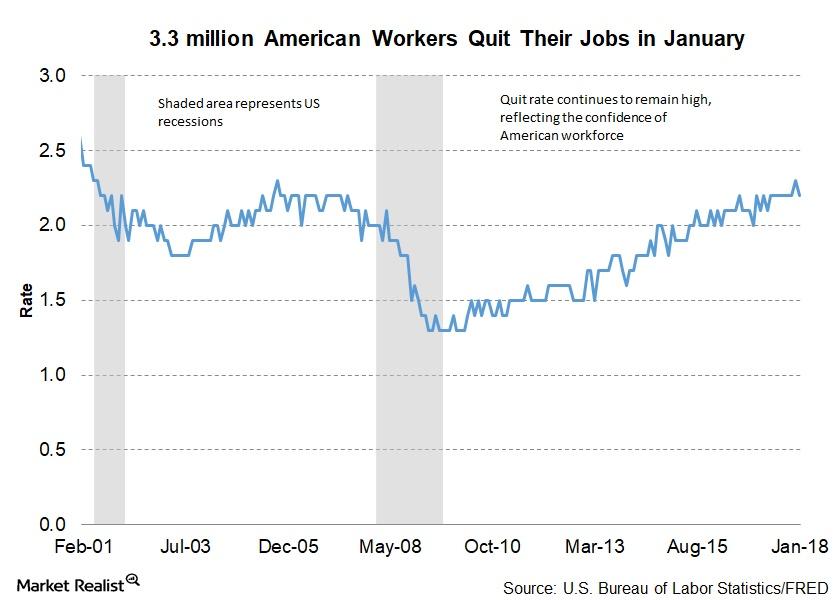 Why the US Workforce's Quit Rate Has Remained High
<p>January&#8217;s JOLTS (Job Openings and Labor Turnover Survey) data, which contains information about job openings and total separations, was reported on March 16.</p>
January quit rate
January's JOLTS (Job Openings and Labor Turnover Survey) data, which contains information about job openings and total separations, was reported on March 16. The separation total includes layoffs, retirements, and voluntary quits.
Total separations in January stood at 5.9 million, representing 4.1% of the total workforce and a minor increase from the December reading of 5.1 million. Of the total separations, 3.3 million workers (2.2% of the workforce) quit voluntarily. The voluntary quit rate fell by one percentage point from the previous month.
Article continues below advertisement
Article continues below advertisement
A closer look at employment in 2017 
Net changes in employment can be measured by subtracting the number of separations from the number of hires. In 2017, the Bureau of Labor Statistics reported 65.3 million hires and 63.0 million separations, with both hires and separations increasing from 2016. The key takeaway from the annual levels was the increase in the number of people quitting their jobs. The number of quits has increased for an eighth consecutive year, which coincides with the expansion of the economy. In January, the quit rate increased in the art, entertainment, recreation, mining, logging (WOOD), and real estate (XHB) industries, while the quit rate decreased in professional and business services (IYC).
Which sectors have witnessed the most layoffs?
The JOLTS report also reports the number of layoffs in the US economy. In January, there were 2.2 million layoffs and discharges, representing 1.5% of the workforce. Layoffs increased in the healthcare (XLV), social assistance, construction (ITB), leisure, and hospitality sectors.
To summarize, the US employment market has remained strong. February non-farm payroll data beat expectations, and the current level of job openings indicates a strong job market in the United States. The introduction of tariffs and the possibility of increased fiscal spending could improve the US job market.