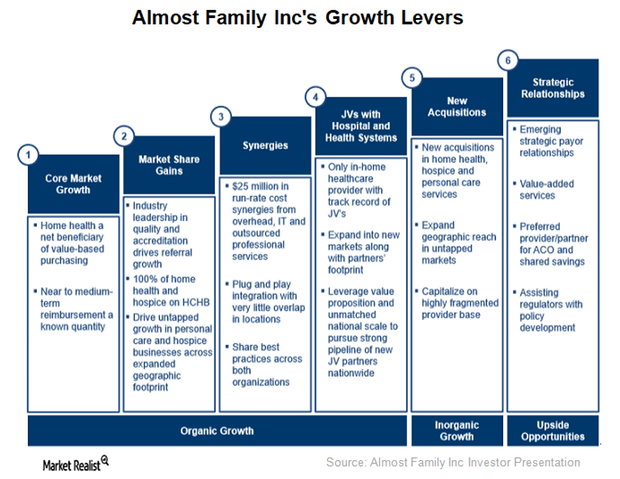 What's Almost Family's Business Strategy?
By Kenneth Smith

Mar. 14 2018, Updated 8:36 a.m. ET
Merger with LHC Group
In November 2017, Almost Family (AFAM) entered into a merger agreement with LHC Group (LHCG). Through this transaction, stockholders of Almost Family will receive 0.91 shares of LHC Group's common stock for each of Almost Family share and the cash equivalent of any fractional shares.
Article continues below advertisement
Business plan
Almost Family's business plan has key focus areas and targets that include generating same-store sales growth through high-quality services and catering to patients' needs, driving down costs by improving workforce productivity through improved monitoring, and implementing tighter controls, workflow automation, and use of technology.
The company's business plan also aims to expand the significance of its Home Health services by selectively acquiring other quality providers to start new agencies, providing new services consistent with its senior advocacy mission, making strategic investments to expand its healthcare innovation segment, and expanding its capital base through earnings performance and additional capital investments.
Business segments
Almost Family's Home Health segment provides a range of Medicare-certified home health nursing services to patients who are in need of recuperative care. Home Health services are provided in place of additional care in other settings, such as long-term acute care hospitals, inpatient rehabilitation hospitals, and skilled nursing facilities.
Under its senior advocacy mission, Almost Family offers special clinically based protocols such as optimum balance, silver steps, and cardiocare. These protocols are customized to meet the needs of the medically complex and chronic patient populations the company serves.
A total of ~95% of the Home Health segment's revenue is generated from the Medicare program, while the rest is generated from Medicaid and private insurance programs. This segment's Medicare revenue is generated on a per-episode basis instead of a fee-per-visit or hourly basis.
In the next part of the series, we'll take a look at Almost Family's other two business segments.