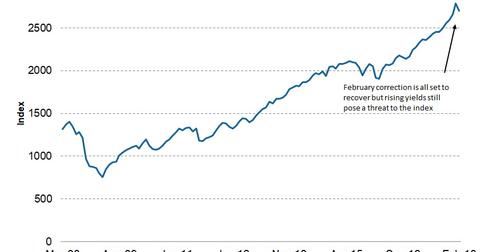 Reading the Performance of the S&P 500 Index as a Forward Indicator
By Ricky Cove

Mar. 2 2018, Published 1:02 p.m. ET
S&P 500 Index on a roller-coaster ride
The S&P 500 Index (SPY) has officially undergone a correction in February. Panic selling triggered by increasing bond yields led to a correction of more than 10% for the S&P 500 Index.
The index, however, has recouped most of those losses with the current monthly decline being less than 2%, and trading in the remaining sessions could decrease the drawdown further. This would represent the first negative monthly close for the S&P 500 Index in 12 months.
Article continues below advertisement
S&P 500's performance and its impact on the leading index
The Conference Board's LEI (Leading Economic Index) uses the performance of the S&P 500 Index (VOO) as one of its constituents. The link between the performance of the stock market indexes and economic performance is a debatable topic, but the inclusion of index's performance in the LEI is based on econometric analysis.
The performance of the S&P 500 Index (UPRO) has a weight of 3.97% in the LEI, and for January, the index had a net positive impact of 0.18 (or 18%) on the LEI. The S&P 500 index (IVV) appreciated by 5.62% in January, which explains its positive impact on the LEI, but this could change next month.
ETFs tracking the S&P 500 Index
The SPDR S&P 500, iShares Core S&P 500 and Vanguard S&P 500 ETFs are few of the prominent ETF's tracking the performance of the index. These funds mimic the performance of the S&P 500 Index and help retail investors with limited funds invest in the index.
Despite the February uptick in stock market volatility (VXX), the outlook for stocks remains positive, though rising yields are likely to pose a threat to this optimism.
In the next part of this series, we'll analyze the Conference Board's Leading Credit Index performance in January.