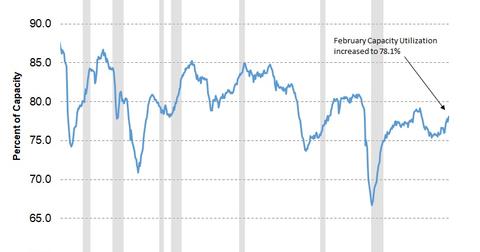 February's Capacity Utilization Trends across US Industries
By Ricky Cove

Updated
Capacity utilization and the US economy
Capacity utilization in US industries and US industrial production data are published by the Federal Reserve. Capacity utilization is a leading indicator of inflation and helps in tracking changes to US business cycles.
Capacity utilization, as the name suggests, reflects the percentage of capacity utilized of total potential output. In the United States, the historical average for capacity utilization stands at 79.8%, with the highest level of capacity utilization occurring in the 1988–1989 period. Among the US industrial sectors, the mining (PICK) and utilities (IDU) sectors have the highest historical capacity utilization rates of 87.0% and 85.4%, respectively.
Article continues below advertisement
Capacity utilization in February
As per the Industrial Production and Capacity Utilization report published by the Federal Reserve, total industry capacity utilization increased 1.3% from 77.4% in January 2018 to 78.1% in February. The mining sector bounced back from its slump in activity in January to record the highest growth in capacity utilization of 3.6% YoY (year-over-year), while the manufacturing and utilities (VPU) sectors witnessed capacity utilization increases of 0.8% YoY.
Industrial production, capacity utilization, and the financial markets
Capacity utilization and industrial production data are strong forward indicators of economic activity. Over the last 12 months, overall US capacity utilization has increased 1.3%, and industrial production (XLI) has increased 4.4%. 
The overall increase in production activity is leading to a strong employment market, with unemployment rates falling and job openings continuing to grow, which could eventually lead to higher wages and higher inflation (TIP).
While increased industrial production and capacity utilization bode well for the equity markets, increasing inflation could lead to higher interest rates, which could dampen investor optimism.