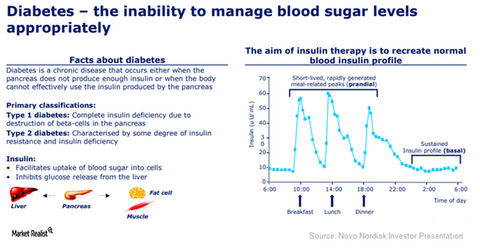 Diabetes Care Segment Continues to Drive Growth for NVO in 2018
By Margaret Patrick

Mar. 6 2018, Published 10:09 a.m. ET
Diabetes care growth opportunity
According to the International Diabetes Federation, ~10% of adults in the world are affected by diabetes. However, despite Novo Nordisk's being a global leader in diabetes care, it's projected that only 6% of diabetes patients (~26 million people) are treated with its products. 
Of these, 11.2 million patients are estimated to be treated with the company's human insulin products, 12.5 million with its modern insulin products, 0.9 million with its new-generation insulin products, and the remaining 1.4 million with its glucagon-like peptide 1 (or GLP-1) products.
These statistics highlight the scale of the growth opportunity for—and the level of under-penetration of—Novo Nordisk in the diabetes care segment.
The above diagram explains key facts about diabetes and the role of insulin therapy in diabetes care.
According to the Centers for Disease Control and Prevention, diabetes has become a global pandemic and is mainly fueled by increasing obesity rates across the world. Poor glycemic control in type 2 diabetes patients is a problem that is currently being seen across the world.
Article continues below advertisement
Significant unmet demand
Despite the disease's increasing prevalence, only half of diabetes patients are currently diagnosed, and only half of those diagnosed have access to any form of diabetes care. Approximately 50% of the patients opting for diabetes care get optimal therapy, while only half of those patients finally reach their glycemic control targets. There is significant unmet demand in this segment, which could provide robust growth opportunities for diabetes care players such as Eli Lilly (LLY), GlaxoSmithKline (GSK), and Merck & Co. (MRK).
In cases when type 2 diabetes is diagnosed in early stages and β-cell functioning is high, patients can be treated with an appropriate diet and exercise. However, as the disease progresses (and with deterioration in β-cell functioning), patients need to be treated with oral antidiabetics (or OAD), GLP-1 therapies, and finally insulin. 
According to IQVIA (formerly IMS) data for the United States, the United Kingdom, Germany, and France, 68% of treated diabetic patients are using OADs, 4% are on GLP-1 therapies, and the remaining 28% are on insulin therapies. OADs, however, account for only 37% of the total market value of the diabetes care segment, while GLP-1 and insulin therapies account for 12% and 51%, respectively.
In the next article, we'll discuss Novo Nordisk's diabetes care portfolio in greater detail.