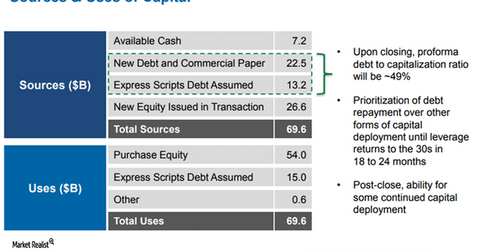 Cigna Expects to Report Robust Revenue Growth in the Future
By Margaret Patrick

Updated
 Robust revenue growth
Cigna (CI) has projected its expected annual revenue growth rate in the range of 6%–to 8% from 2017 to 2021, assuming the successful completion of its acquisition of Express Scripts. This growth trend is expected to be driven by a robust uptake of Cigna's current services as well as that of the broad suite of differentiated services that will be added by Express Scripts to Cigna's portfolio.
Article continues below advertisement
EPS projections
Cigna has projected its 2021 EPS (earnings per share) target to be $20–$21, which implies that the current projected earnings growth rate is either similar to or higher than what Cigna previously estimated. In 2017, Cigna reported adjusted EPS of $10.48. While Cigna's previous 2021 EPS target was $18, the additional $2–$3 is expected to accrue in the first full year after the completion of the Cigna–Express Scripts deal. The company expects to benefit from increased demand for its products and services, improved operating efficiencies, reduced cost of care, and sturdy cash flows, despite the impact of transitioning Express Scripts clients.
Cigna plans to leverage Express Scripts' leading home delivery and specialty pharmacy services and medical benefits management services offered through its subsidiary, Evercore, which are currently being offered to approximately 100 million Americans. With Express Scripts witnessing 1 billion prescription touch points every year, the acquisition of this pharmacy benefits manager could enable Cigna to compete effectively with other health insurance companies such as Aetna (AET), UnitedHealth Group (UNH), and Anthem (ANTM).