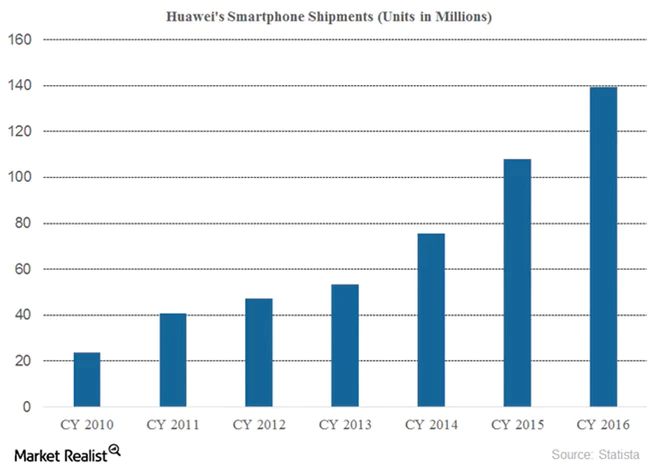 A Look at Nokia's 2017 Licensing Revenue
<p>Last year, Nokia (NOK) announced a multiyear smartphone patent-licensing agreement with China's (FXI) Huawei.</p>
Nokia announces a multiyear licensing agreement with Huawei
Last year, Nokia (NOK) announced a multiyear smartphone patent-licensing agreement with China's (FXI) Huawei. Nokia now has patent-licensing agreements with smartphone manufacturers including Apple, LG, and Xiaomi.
Smartphone shipments for Huawei have grown significantly over the last few years. Huawei and Xiaomi are targeting emerging markets (EEM) such as India (INDA) and China to drive shipment growth and launching smartphones in the $150 range.
Article continues below advertisement
Article continues below advertisement
However, Huawei has been wary of the strict IP (intellectual property) laws in the United States and Western Europe and might have entered into this agreement to avoid litigation. We know about Nokia's diversified portfolio and patents in the 4G (fourth-generation) LTE (long-term evolution) space and that Huawei is looking to leverage and target growth in developed markets as well. According to a report from Reuters, the Nokia-Huawei deal could generate annual revenue of $119 million compared to the Nokia-Apple deal, which could generate revenue of close to $300 million.
Licensing business extremely profitable for Nokia
Although Nokia's licensing revenue is marginal compared to its overall sales, this business has been extremely profitable for the company. Nokia's patent-licensing technology reduces the need for hardware components in smartphones and helps to conserve battery life. Although Nokia generates the majority of its revenue from the networking business, the company is now focusing on the profitable licensing space.
We have seen that Nokia Technologies' revenue has risen 80% YoY (year-over-year) in 4Q17 after rising nearly 40% in 3Q17. This segment has helped Nokia offset falls in a mature telecommunications equipment space. Nokia expects revenue from its Nokia Technologies business to grow at a CAGR (compound annual growth rate) of 10% between 2017 and 2020.
Nokia's CEO, Rajeev Suri, stated, "A combination of license renewals, new licensee in the mobile devices sector and extensions into new segments such as automotive and brand licensing will all be part of driving this growth."