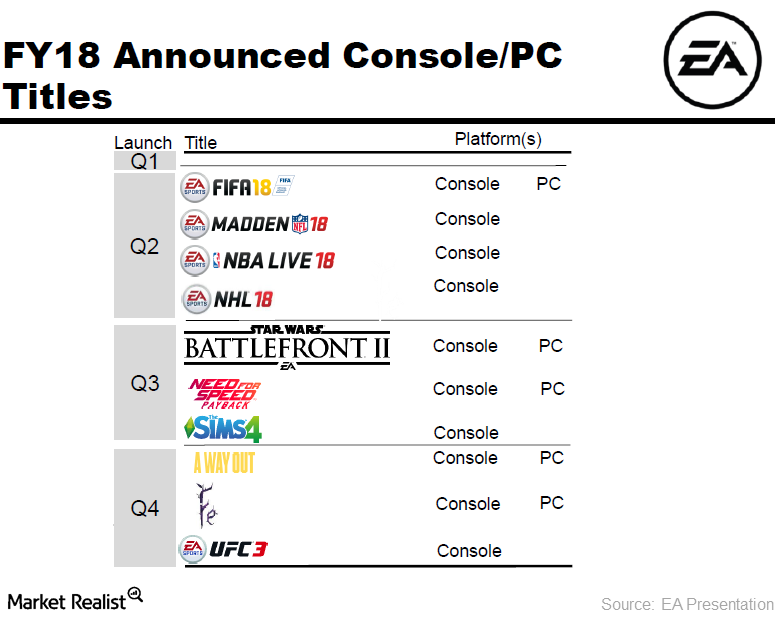 A Look at Electronic Arts' Huge Player Base across Verticals
FIFA franchise has over 42 million players on console
Electronic Arts' (EA) CEO Andrew Wilson stated, "Across the company, our fantastic creative teams are constantly pioneering new experiences that expand our reach and add to the unmatched depth and breadth of our portfolio of games." This perspective reflects in the increasing user base and player community for EA over the last few quarters.
EA's FIFA franchise remains one of the leading games worldwide. It has approximately 42 million players on console platforms PlayStation (SNE) and Xbox (MSFT). The unique player base for the FIFA 18 rose 10% YoY (year-over-year) between its launch and the end of fiscal 3Q18. Comparatively, FIFA Mobile added 26 million players in fiscal 3Q18, which was a record quarter for EA in the trailing-12-month period, driven by growth in China (FXI) and Korea (EWY).
The popularity of EA's Ultimate Team continued to soar in 3Q18 and across the EA Sports titles while players for FIFA Ultimate Team rose 12% YoY from its launch through to 3Q18.
Article continues below advertisement
Article continues below advertisement
Battlefield 1 has over 25 million unique players
Other popular game Battlefield 1 has over 25 million unique players to date, similar to Battlefield 4, which also has a huge player community. The Sims 4 remained one of EA's best-selling games. It had a record quarter in 3Q18, as it was the company's "highest-performing expansion pack to date." The Sims 4 launched on consoles for the first time as well, which is likely to drive future sales and increase the player base. The player base for The Sims 4 rose 35% YoY in 3Q18.