Why Quit Rate Indicates a Strong US Employment Market
As per the latest JOLTS report, total separations for December were 5.2 million, which is 3.6% of the total workforce.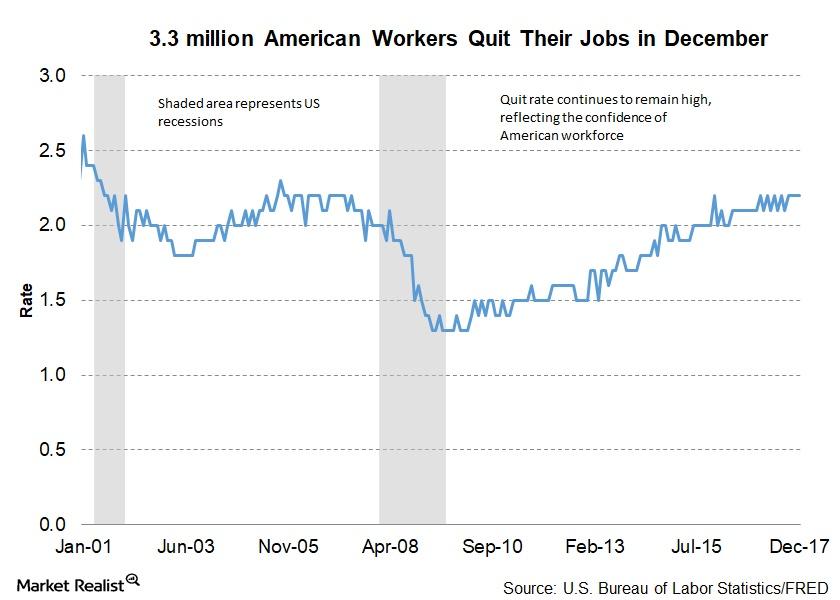 3.3 million Americans quit their jobs in November 
The "Job Openings and Labor Turnover Survey" (or JOLTS) data for December was reported on February 6 and contains information about job openings and total separations. The total number of separations include layoffs, retirements, and voluntary quits.
As per the latest JOLTS report, total separations for December were 5.2 million, which is 3.6% of the total workforce. 3.3 million workers quit voluntarily, which was 2.2% of the workforce. An increasing number of workers who quit voluntarily indicates that workers are confident about finding a better opportunity, which is a positive sign for any economy.
Article continues below advertisement
Article continues below advertisement
A closer look at employment in 2017 
The net change in employment can be measured by subtracting the number of separations from the number of hires. For 2017, total hires stood at 64.7 million and total separations were 62.6 million, resulting in a net employment gain of 2.2 million jobs. In December, the highest attrition of workers was from the business and professional services sector, followed by the trade and transportation (IYT) sector. The number of quits has increased by 8,000 in the real estate (XHB) sector and by 4,000 in the mining (XME) and logging (WOOD) sector. At a regional level, there weren't any major changes from the previous month. The South continued to have the most voluntary quits.
Which sectors have witnessed high layoffs?
The JOLTS report also gives the number of layoffs in the US economy. For December, there were 1.6 million layoffs and discharges, which was 1.1% of the workforce. There were no major changes observed at an industry level in this month's report.
The US employment market continues to improve, and this improvement has been cited as the reason for the recent market turmoil. Rising employment and wages are expected to exert upward pressure on inflation (TIP), which could lead to an overheating economy and eventually force the US Fed to raise interest rates sooner than expected. Investors need to understand and adjust to what this strength in the job market could mean for rate hikes.