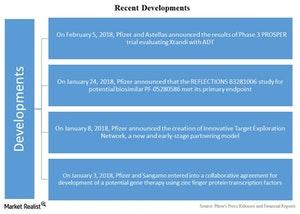 What Investors Should Know about Pfizer's Recent Developments
By Mike Benson

Feb. 12 2018, Updated 7:33 a.m. ET
Pfizer's developments
The recent developments for Pfizer (PFE) include various product developments, pipeline developments, and commercial developments.
The above chart shows the recent developments for Pfizer.
Article continues below advertisement
Recent developments
The company's recent developments are as follows:
On February 5, 2018, Pfizer and Astellas announced the results of the PROSPER trial, a phase three trial evaluating the use of Xtandi with androgen deprivation therapy in patients with non-metastatic castration-resistant prostate cancer.
On January 24, 2018, Pfizer announced the results of REFLECTIONS B3281006, a study evaluating the safety and efficacy of PF-05280586, a potential biosimilar to the drug Rituxan (rituximab)/MabThera. The study met its primary endpoint in January 2018.
On January 8, 2018, Pfizer announced that the Innovative Target Exploration Network was created as an early-stage partnering model to collaborate with select academic institutions and principal investigators for identification of research products that may deliver novel therapeutic products and mechanisms for drug discovery.
On January 3, 2018, Pfizer and Sangamo Therapeutics (SGMO) entered a collaborative agreement to develop a potential gene therapy that uses zinc finger protein transcription factors for the treatment of amyotrophic lateral sclerosis and also for other neurodegenerative disorders linked with the mutation of the C90RF72 gene.
On December 22, 2017, the US Food and Drug Administration (or FDA) approved Steglatro (ertugliflozin) tablets and Steglujan (ertugliflozin and sitagliptin) tablets, a fixed-dose combination drug for use in patients with type two diabetes. The drugs are co-developed by Pfizer and Merck (MRK).
On December 21, 2017, the US FDA granted breakthrough therapy designation for the use of avelumab in combination with Inylta (axitinib) for treatment-naïve patients with advanced renal cell carcinoma.
On December 11, 2017, Pfizer and Spark Therapeutics (ONCE) announced that all 11 patients in the ongoing Phase 1/2 trial of the investigational drug SPK-9001 for the treatment of hemophilia B had discontinued the routine infusions of factor IX concentrates, and the results show that the annualized bleeding rate was reduced by ~97%, while the annualized infusion rate was reduced by ~99% as of the data cutoff date of November 29, 2017.