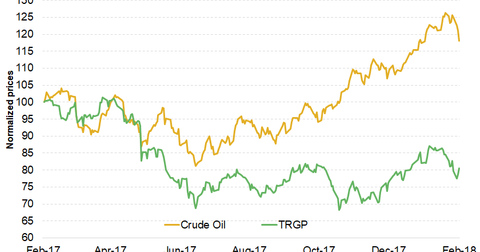 Targa Resources Has the Highest Correlation with Crude Oil
By Kurt Gallon

Updated
Targa Resources versus crude oil
Targa Resources (TRGP), a midstream C corporation mainly involved in natural gas and crude oil gathering, natural gas processing, and NGLs downstream business, has the highest correlation with crude oil among all of the midstream companies. The one-year correlation between Targa Resources and crude oil was 0.54 as of February 6, 2018. A correlation coefficient close to one indicates a strong relationship between two variables.
Article continues below advertisement
Targa Resources' high correlation with crude oil reflects its involvement in natural gas processing and its NGLs downstream business. Targa Resources' gathering and processing business has a mix of PoP (percentage of proceeds) contracts and fee-based contracts. Under a PoP contract, the C corporation benefits from a rise in NGLs and natural gas prices and vice versa. Targa Resources has exposure to crude oil prices through its NGLs downstream business, which includes NGLs fractionation, NGLs marketing, LPG (liquefied petroleum gas) exports, and NGLs logistics.
Targa Resources has ~66% of its operating margin fee-based, while the remaining ~33% is commodity-linked. Targa Resources has reduced its commodity price exposure through hedging. The C corporation has hedged ~80%, ~50%, and ~50% of its natural gas, NGLs, and condensate volumes that are linked to commodity prices for 2018.
Analysts' recommendations
Of the analysts surveyed by Reuters, 61.9% rated Targa Resources as a "buy," while 38.1% rated it as a "hold." The C corporation has seen two rating upgrades in 2018. Goldman Sachs and Barclays upgraded Targa Resources to "buy." Targa Resources is trading close to the low range ($46) of analysts' target prices. Targa Resources' average target price of $53.7 implies ~19% upside potential from the current price levels.
In the next part, we'll discuss the correlation between ONEOK (OKE) and crude oil.