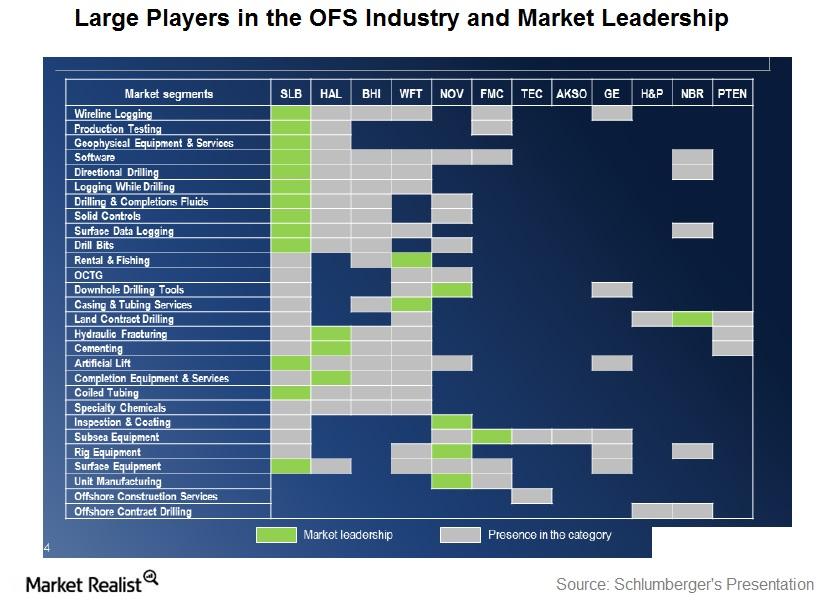 The Oilfield Services Industry: A Brief Introduction
What are oilfield services?
The oilfield equipment and services (or OFS) industry refers to all products and services associated with the oil and gas exploration and production process, or the upstream energy industry. It includes services such as locating energy sources, energy data management, drilling and formation evaluation, well construction, and production and completion services.
While some OFS companies such as Schlumberger (SLB) and Halliburton (HAL) have shifted their services to more technology-based support, others such as Helmerich & Payne (HP) continue to focus on legacy services, including rigs and equipment manufacturing and drilling services and products. The companies mentioned here are components of the VanEck Vectors Oil Services ETF (OIH), an ETF tracking an index of 25 OFS companies.
Article continues below advertisement
Article continues below advertisement
Understanding drilling
Drilling rigs are used to dig into the earth's subsurface to extract hydrocarbons, primarily crude oil and natural gas. Rigs consist of a set of equipment that can perform a variety of services, including sampling subsurface mineral deposits, testing the physical properties of rock, soil, and groundwater, and tunneling and drilling.
Transocean (RIG) and Ensco (ESV) are two of the largest rig contractors. Rigs can be land-based (or onshore) or marine-based structures (or offshore). Both onshore and offshore drilling rigs can be of multiple varieties, depending on the location, type, and drilling technique.
FMC Technologies (FTI) and Oil States International (OIS) are predominantly offshore OFS companies. Read more about offshore drilling in Market Realist's Offshore Drilling Unveiled: Your Quintessential Investor's Primer.
In this series, we'll discuss various industry indicators affecting the OFS industry, major OFS players in the United States, and some recent issues in the industry. To gauge how the industry has been trending, we'll also compare major OFS companies based on fundamental metrics and share price movements.
Let's start with US crude oil production and the relation of its price to the OFS industry.