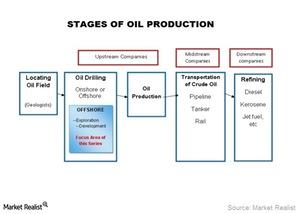 Extracting the Basics: An Introduction to Offshore Drilling
Offshore drilling: the state of the industry in 2016
Oil is one of the most important and most frequently traded commodities, and offshore drilling is an integral part of the oil industry.
In 2015, oil prices declined drastically. As US President Barack Obama opened parts of Southeastern US coastline for oil drilling while still restricting oil drilling in the waters of Alaska's North Slope, it will be interesting to study the offshore drilling industry. In this series, we'll look at the basics and the key characteristics of this industry. We'll also analyze important indicators that will help investors assess the outlook of the industry.
Article continues below advertisement
Where offshore drillers fit in
The complex process of oil production first starts with finding oil fields. Geological surveys of different areas are conducted to find oil fields. These fields can be on the land (onshore) or under the seabed (offshore). In this series, we'll focus on offshore drilling. Once oil fields are located, drilling companies are hired, and these companies conduct exploration and development with the help of rigs. Offshore drilling companies engage in the following:
well exploration—finding new oil and gas deposits by confirming the presence of hydrocarbons
appraisal—drilling to determine the size of the oil field and to define the boundaries of the reservoir
development or completion—preparing the well for production, which includes drilling the target as efficiently as possible.
After an elongated process of drilling (We'll discuss this process further in Part 2 of the series), when oil reaches the surface, the rig is removed from the site and production equipment is set up to extract the oil from the well. The extracted "crude" oil (DBO) is then transported to refineries through pipelines, crude tankers, or rails. At these refineries, the crude oil is processed into diesel, kerosene, gasoline, and jet fuel (among other products).
Key offshore drilling players
Offshore drilling is a multi-billion dollar industry. Key players in this industry include Diamond Offshore Drilling (DO), Noble Corporation (NE), Pacific Drilling (PACD), Seadrill (SDRL), Transocean (VTG), and Atwood Oceanics (ATW). Investors interested in diversified exposure to upstream companies might consider ETFs like XOP, OIH, and IYE.
Now let's look at the complex and costly nature of offshore drilling.