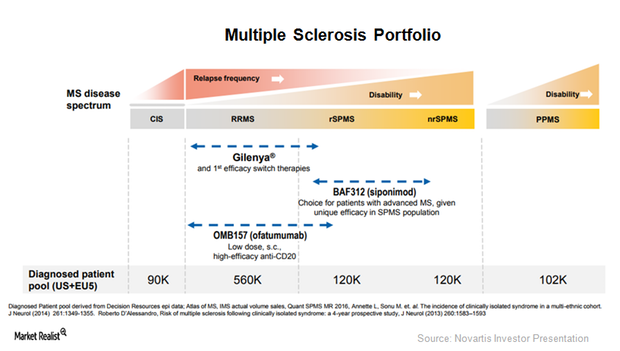 Novartis Plans to Expand its Multiple Sclerosis Portfolio in 2018
<p>Novartis's (NVS) Gilenya reported sales of $825 .0 million in 4Q17, which is a year-over-year (or YoY) drop of 1.0%.</p>
Gilenya: Multiple sclerosis drug
Novartis's (NVS) Gilenya reported sales of $825 .0 million in 4Q17, which is a year-over-year (or YoY) drop of 1.0% on a constant currency basis. On April 12, 2017, the United States Court of Appeals for the Federal Circuit ruled against Novartis.
The court declared that Gilenya's formulation patent protecting the drug until 2026 is invalid. So, Gilenya is protected from generic erosion in the relapsing-remitting multiple sclerosis (or RRMS) indication until 2019. The chart below is a snapshot of Novartis's multiple sclerosis portfolio.
Novartis has submitted applications to regulatory bodies in the US and the European Union (or EU) seeking approval for Gilenya in pediatric multiple sclerosis (or MS) indication.
In the first completed Phase 3 trial, PARADIGMS, in thepediatric MS patient population, Gilenya demonstrated an 82.0% drop in the relapse rate compared to interferon β-1a. Additionally, Gilenya scored better on parameters such as MRI lesions, brain shrinkage rate, and safety profile.
Article continues below advertisement
Article continues below advertisement
Novartis also expects to witness an increase of one year in the timeline of regulatory data protection for Gilenya in the EU until 2022. Gilenya has been a strong asset in Novartis' portfolio, enabling the company to compete effectively with other MS players such as Biogen (BIIB), Teva Pharmaceuticals (TEVA), and AbbVie (ABBV).
Investigational multiple sclerosis assets
Novartis announced the results from its Phase 3 trial, EXPAND, which highlighted the efficacy of its investigational therapy, BAF312 (siponimod). BAF312 is being studied with respect to the reduced the risk of disability progression in patients with secondary progressive multiple sclerosis (or SPMS) at the end of three months and six months of treatment.
The drug demonstrated efficacy based on magnetic resonance imaging (or MRI) measures of disease progression such as T2 lesion volume or lesions and brain volume loss or brain shrinkage.
Because there are very few effective and safe treatment options available in the SPMS indication, BAF312 can allow Novartis to target significantly underserved demand in the MS segment. The company plans to file an application with the FDA for BAF312 in SPMS indication in 1H18.
In the final article in this series, we'll discuss Novartis's cardiovascular pipeline.