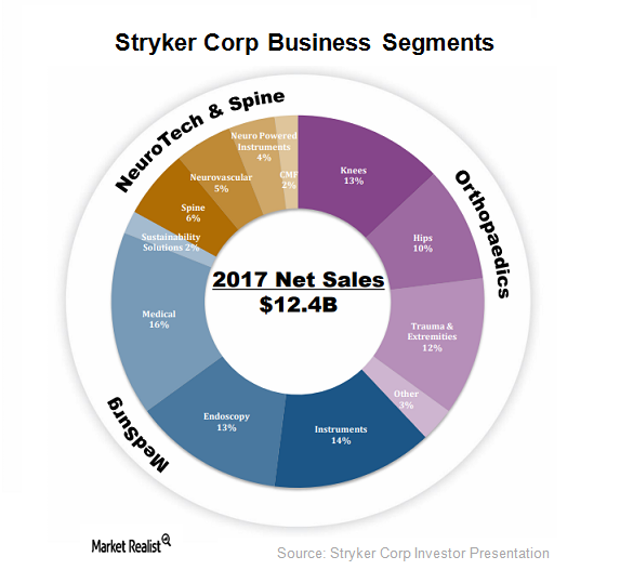 Exploring Stryker's Business Segments
By Kenneth Smith

Dec. 4 2020, Updated 10:52 a.m. ET
Segment performance
Stryker (SYK) operates in three business segments: Orthopedics, Medical and Surgical, and Neurotechnology and Spine. The Orthopaedics segment generated revenues of $4.7 billion in fiscal 2017 compared with $4.4 billion in fiscal 2016. Medical and Surgical contributed 45% of the company's total revenues at $5.5. billion in fiscal 2017 compared with $4.8 billion in fiscal 2016. Revenue contribution from the Neurotechnology and Spine segment was 17% at $2.1 billion in fiscal 2017 compared with $2 billion in fiscal 2016.
Article continues below advertisement
Orthopaedics segment
Products under the Orthopaedics segment include implants used for hip and knee joint replacements and extremities surgeries. In 2015, Stryker received clearance from the FDA for its Mako total knee application. The company launched the product in 2017. With this launch, the Mako product offerings have expanded to provide a comprehensive solution in the robotic arm-assisted reconstructive surgery line.
In fiscal 2017, products for knees, hips, and trauma and extremities contributed 34%, 28%, and 31%, respectively, to total sales for the Orthopaedics segment.
Medical and Surgical segment
Stryker's Medical and Surgical segment includes surgical equipment and navigation systems, endoscopic and communications systems, patient handling, emergency medical equipment, and intensive care disposable products.
In fiscal 2017, product sales from instruments, endoscopy, and medical categories contributed 30%, 30%, and 35%, respectively, to net sales for the segment.
Neurotechnology and Spine segment
Stryker's marketed products under its Neurotechnology and Spine segment include neurosurgical, neurovascular, and spinal implant devices. These products are used for minimally invasive procedures, open skull surgical procedures, and synthetic bone grafts.
In fiscal 2017, sales for the neurotechnology and spine categories contributed 65% and 35%, respectively, to the segments' net revenues.
In the next part of this series, we'll take a look at Stryker's capital allocation strategy.