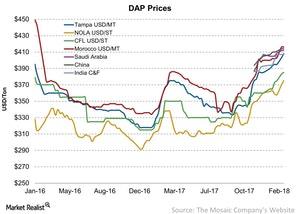 How DAP Prices Performed Last Week
By Adam Jones

Updated
DAP prices
Last week, DAP (diammonium phosphate) prices in all three locations in the US rose week-over-week, while the other four locations outside the US saw sideways movement in DAP prices during the same period.
Article continues below advertisement
Weekly performance
In the Tampa location, DAP prices rose 1.2% week-over-week to $408 per metric ton from $403 per metric ton. In the NOLA (New Orleans) region, prices rose 1.4% week-over-week to $340 per metric ton from $336 per metric ton. In the Central Florida location, prices rose 0.52% to $349 per metric ton from $347 per metric ton.
In contrast to the prices in the US (MOO), where Mosaic (MOS), Nutrien (NTR), CVR Partners (UAN), and Terra Nitrogen (TNH) are active, prices at the other four locations fell week-over-week. Prices stood at $416 per metric ton in Morocco, $412 in Saudi Arabia, $414 in China, and $407 in India.
Year-over-year change
Compared to the same week a year ago, prices at the above locations have risen in the double digits year-over-year. In Tampa, NOLA, and Central Florida, prices rose 11% year-over-year at each location. In the other four locations, the prices were up by an average of 15% year-over-year.
In the next article, we'll discuss MAP prices.