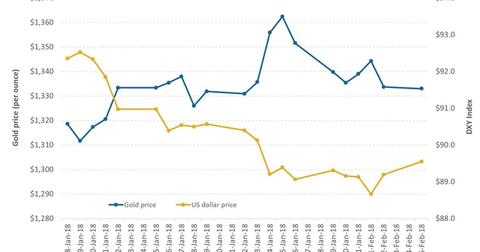 Can the US Dollar Rally Further to the Detriment of Gold Prices?
By Anuradha Garg

Updated
US dollar rallies
After disappointing the markets for a long time, the US dollar (UUP) has finally rallied. The US non-farm payrolls data released on February 2, 2018, were better than expected. The data provided a boost to inflation expectations and consequently to rate hike expectations. These factors, in turn, boosted the US dollar.
Higher interest rates in the United States make the country an attractive destination to park funds from overseas, increasing the US dollar's value relative to other currencies.
The latest boost to the dollar came after President Trump's comments that the dollar would strengthen on the back of a growing US economy. Trump also mentioned that the Treasury secretary's comments at Davos, Switzerland, regarding the US favoring a weaker dollar had been taken out of context.
Article continues below advertisement
Strength following slide
The recent rally in the US dollar followed a ~10% fall in 2017 and a 3.2% fall in January 2018. The dollar's strong performance relative to overseas currencies and the uncertainty regarding US policies were the main reasons for the dollar's slide.
The dollar and gold
One of the reasons that gold didn't rise much despite the sell-off in the equity markets has to do with the rally in the dollar. Because gold is denominated in USD, a rising dollar leads to a fall in gold's value, and vice-versa.
Further strength in the US dollar could be negative for gold prices and gold stocks such as Goldcorp (GG), Randgold Resources (GOLD), Hecla Mining (HL), and Franco-Nevada (FNV), which are trading at $13.5, $100.8, $3.7, and $74.2, respectively.