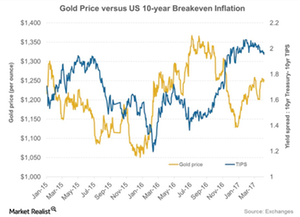 Will Gold Maintain Its Close Correlation to Inflation?
Inflation hedge
Gold is famously known as a hedge against rising inflation. As the price of goods and services increases, the value of paper currency diminishes. This prompts people to hold their assets in gold rather than paper currency. Though in the shorter run, the relationship between gold and inflation may diverge, in the longer run, they may rise together.
The two common measures of inflation used in the US (TIP) are CPI (or consumer price index) and PCE (or personal consumption expenditure). On December 22, the core PCE price index, which measures the change in the price of goods and services purchased by consumers excluding food and energy, was released. A figure higher than expected is often beneficial for the home currency. The figure met expectations and rose 0.1% in November.
Article continues below advertisement
Fed watch
The rise in inflation could be a positive sign for the current scenario. The Federal Reserve will be closely watching the inflation numbers as it makes interest rate decisions. Other core economic indicators could also have an impact on rate hikes as well.
Some of the mining-based funds that could also be impacted by the potential changes in inflation numbers are the VanEck Vectors Junior Gold Miners Fund (GDXJ) and the Sprott Gold Miners (SGDM). They rose 8.4% and 4.5%, respectively, on a 30-day trailing basis. The returns on the mining-based funds are often amplified.
Mining stocks like B2Gold (BTG), Yamana Gold (AUY), First Majestic Silver (AG), and Hecla Mining (HL) also saw an up day on Tuesday along with the precious metals. They rose 5.1%, 5%, 1.4%, and 1.7%, respectively.